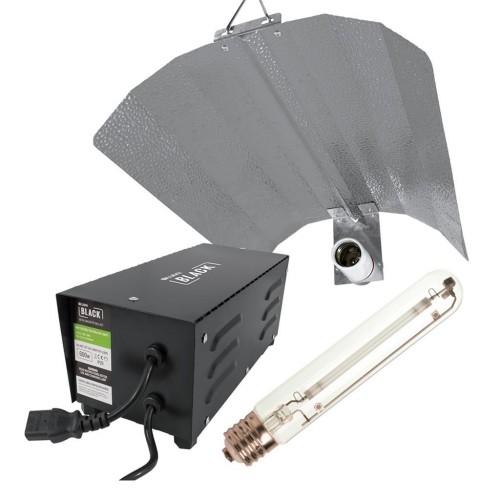 Lumii Black 600w Magnetic Grow Light Kit


A Great value for money grow light kit with a 2 year warranty, one of the UK'S biggest value brands so rest assured quality and customer service will be on your side.Includes lamp, ballast and reflector, suitable for start to finish.


The Relector
The LUMii BLACK Reflector is a Dutch Barn-Style, Euro Reflector. Included with a lamp holder, V hooks for hanging and a 4m cord set.
The LUMii BLACK Euro Reflector is quite simply a great budget reflector at a great price!


Dim
ensions:

Height: 160mm | Width: 350mm | Length: 520mm


The Grow Lamp





The LUMii BLACK Lamp is a 600w Dual spectrum Lamp with an E40 fitting.
Offering raised blues, this bulb is perfect for stimulating enhanced flowering.
The LUMii BLACK Lamp offers 20,000 life hours and 88,000 Lumens.
For best results.


The Ballast


The LUMii BLACK Metal Magnetic Ballast is supplied with a flying IEC lead which enables you to add any reflector fitted with a universal IEC socket. It's simple to start growing, just add a reflector and a lamp with the same wattage as the ballast. T
he well vented metal-case ensures the ballast runs cool and quiet and features wall-hanging brackets making them fully wall-mountable, thus making more space in your grow room.
The LUMii BLACK Metal-Cased Magnetic ballast can be used with any 600w HID lamp – however we recommend using a LUMii BLACK 600w Dual spectrum lamp to get the best results

Lumii Black 600w Grow Light Kit