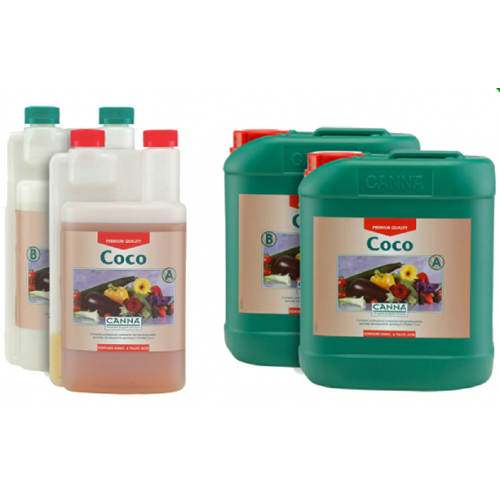 Canna Coco A&B


Canna Coco A&B is a revolutionary, (and often imitated, but never quite duplicated), beneficial nutrient that contains all of the essential elements necessary for a healthy and abundant crop. This easy-to-use formula does not come in a Flores or Vega form as it is basically a unique combo of both in that it works for both the growth and blooming cycles for plants! Canna Coco A&B dissolves quickly and easily so it is safe to use in "drain-to-waste" systems that contain coco coir like Canna Coco Professional Plus.



After years of research with various types of growth systems including potting and drainage systems, Canna was the first to develop this unique formula that is specially geared toward coco growth environments. As it is composed of high minerals, it is extremely beneficial for healthy plant growth and development. Both private and corporate growers rave about the extensive growth and budding with this amazing product.





Directions for use:



Never add parts A&B at the same time as it will cause an adverse reaction. Add Part A and then wait at least 10 minutes before adding part B. Never mix the 2 together in their concentrated form as well.




Add Canna Coco Part A, then Canna Coco part B (equal parts) to tap water and then fill the nutrition tank with water as per usual

Normal dosage: 40 ml per 10 l of water

Mix well and let stand for a few hour before use

recommended pH level: 5.3-6.2

plants will take root in a coco substrate that is not saturated with water

Store in a dark place, do not expose to extreme heat or cold

Keep away from pets and children

Wear eye goggles for protection

Wash hands well after use, wear gardening gloves when administering this product
Canna Coco A&B