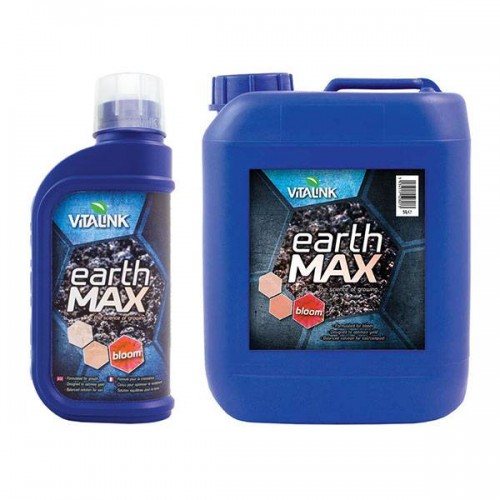 VitaLink Earth Max Bloom


VitaLink Earth Max Bloom is a powerful flowering, budding and fruiting mineral rich nutrient that can be added to soil and compost media when growing plants. VitaLink Earth Max Bloom is scientifically proven the help throughout the final weeks of blooming reproductive stages to give plants healthier crops and higher yields.
VitaLink Earth Max Bloom works wonders on any soil or compost garden to help plants power up their reproductive cells to create higher crop yields and quality of crops. The fulvic acid in VitaLink Earth Max Bloom gives better mobility to nutrients and boosts the uptake of the nutrients into the reproductive organs. The nutrients' ability to reach the cells faster gives more performance value to the crops growth and sustainability. The faster growth of crops and higher quality also gives a higher yield of healthy crops.
VitaLink Earth Max Bloom is used during the stages of blooming and fruiting during week 1 through week 8. The nutrient additive will support higher quality, larger yield crops and supports the overall health of the plant. VitaLink Earth Max Bloom works alongside
VitaLink Earth Max Grow
and will give soil gardener's strong, healthy plants that produce quality, higher yields.



Benefits:



Higher quality and larger yields

Improves nutrient uptake and reproductive support

Plant improved overall all health and increased yields



VitaLink Earth Max Bloom is available at Grow World, a leader in all equipment and products for home gardening, throughout the UK. They have professional, highly skilled gardening experts to help give you support and guidance through all your home gardening experiences.They offer VitaLink Earth Max Bloom in 1 litre and 5 litre bottles that will give you the most healthy and strong plants and gain the yields you so desire.
Grow World works with all major manufacturers of home gardening and hydroponic equipment and products to offer you a knowledge base and cost savings that is unsurpassed. We take pride in our experience levels of our gardening professionals and excellent customer service. We can offer assistance on uses of all gardening and hydroponic equipment and products to give you peace of mind that you are in great hands for all your home gardening and hydroponic needs.



VitaLink Earth Max Bloom dosage:

3 to 4 mL per 1 Litre of Water . Follow the VitaLink Earth Max Bloom feed charts to gain more information
Vitalink Earth Max Bloom