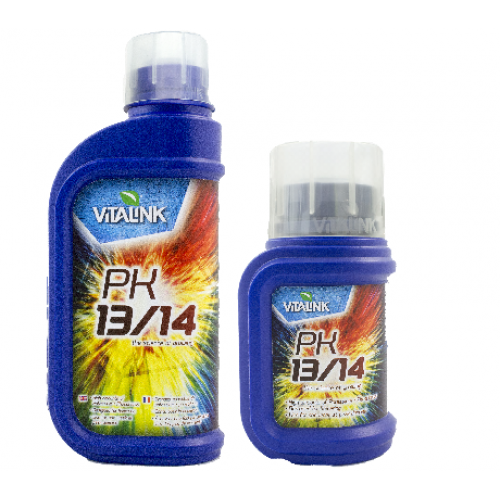 VitaLink PK 13/14 is a highly concentrated potassium and phosphorus supplement with a ratio of 13:14, designed to give plants an additional boost in the flowering stages and encourage overall growth, quality and plant health. Phosphorus is absorbed through the roots to increase plant health and development and potassium is an essential nutrient in the processes of reproduction and growth. Using VitaLink PK 13/14 for one week during the late stages of bloom can give plants a final push to encourage a fuller and denser crop.

By increasing the flow of potassium to nitrogen ratio during the flowering stages, there productive process is accelerated, meaning plants can divert more energy towards developing larger flowers and fruits for an overall higher quality yield.


Benefits:


Rich in potassium and phosphorus to enhance growth

Concentrated product that lasts longer

Supports growth and overall health

Suitable for use alongside a variety of other products

Boosts yield for fuller, denser crop




Results are quickly visible when using VitaLink PK 13/14 as part of your nutrient schedule and is suitable for a variety of mediums including hydroponic gardens, coco and soil. VitaLink PK 13/14 has been scientifically tested and proven to improve plant growth, health and overall quality before the final flush. Grow World provides VitaLink PK 13/14 in 250ml and 1 litre bottles available for purchase.

Grow World is the leading UK retailer of VitaLink products and can provide you with feed charts, information and advice on how to get the best from your garden. Our specialists will use their wealth of knowledge to assist you with any queries you may have, and will use their professional expertise to assist you with all of your questions and hydroponic needs.

Directions of use: During week 5 or 6 of the bloom and peak flowering stages is the most suitable time to use VitaLink 13/14 at 1 ml per litre. For best results, use VitaLink Buddy from week 3 of flowering until week 5 or 6 and use VitaLink PK 13/14 for a 7 day period before reverting back to VitaLink Buddy for the final stages of flowering and flushing process. Ensure you do not combine VitaLink Buddy and VitaLink PK 13/14 as this could cause negative effects.
Vitalink PK 13/14