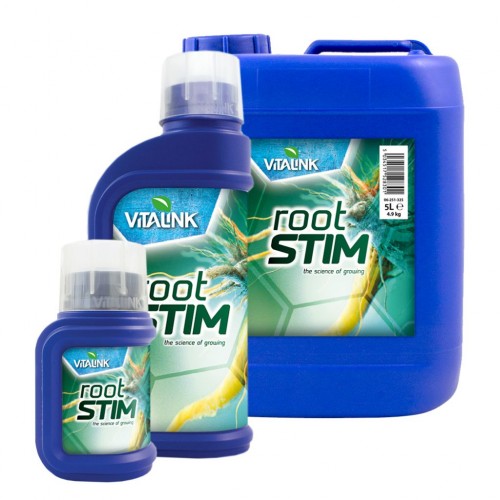 VitaLink Root Stim is an additive designed to promote root growth for stronger, healthier plants and increased nutrient and water uptake in the early vegetative stage of the plant life cycle. In order to produce a large, high quality yield it is first important to grow plants with strong roots that will be able to fight off disease and survive difficult weather conditions Vitalink Root Stim does exactly this..

VitaLink Root Stim accelerates root development using seaweed extracts and a combination of natural bio-stimulant properties and hormones whilst helping to protect plants from common diseases such as Pythium. This product is not just suitable for young plants but is also effective during the flowering process and can be used up to week 7 of the bloom stage for heavier, better quality fruits and flowers.


VitaLink Root Stim Benefits:




Encourages rapid root growth and development

Prevents common plant diseases

Develops stronger, healthier roots

More efficient nutrient and water uptake

Promotes higher rate of root hair formation

Can be used at any stage of plant life cycle

Suitable for all growth mediums




VitaLink Root Stim has been designed to enhance the potential of plants from the early stages to ensure maximum growth and quality. Grow World provides VitaLink Root Stim in 250ml and 1 litre bottles available for purchase at your convenience.

As a leading distributor of VitaLink products Grow World strive to provide you with any information and advice you may need for your hydroponic garden. At Grow World, our team of professional experts are at your service to provide you with the knowledge and equipment you require to get the best from your plants including feed charts, dose information and any other queries you may have about this and any other products in our range.

Using 1 ml per 1 litre of VitaLink Root Stim during the first week of vegetation will improve and increase root growth. After the first week, you can continue to use VitaLink Root Stim at 0.5ml per 1 litre right up until week 7 of the flowering process.
VitaLink Root Stim