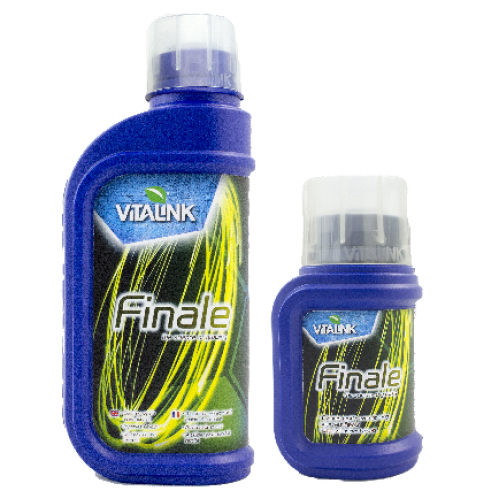 VitaLink Finale is a final stage flushing agent to slowly remove nutrients from the fertilization process and aides in total ripening of plant products. It helps speed up the ripening process to evenly improve the health and quality of the crop. If old nutrients remain it will affect the taste and quality of the crop.

It helps to boost the ripening of underdeveloped crops and removes nutrients slowly not shocking the plant allowing it to come to fruition naturally. VitaLink Finale is made from all natural plant extracts and minerals with less nutrient based chemicals to aid the final weeks of plant production. It can be used during the growing process for over fertilization issues to help rid the water or soil of over production of nutrients.

VitaLink Finale is normally used in the last couple of weeks of growth to speed up the crop promotion and development. It puts pressure on the roots to push the remaining nitrates up through the plant to deliver the energy to the reproductive cells to help promote faster and higher quality yields. VitaLink Finale works slowly to remove nutrients so as not to put too much stress on the plant causing a naturally balanced nitrate level within the cells.

VitaLink Finale has been developed to assist plant health by slowly removing unneeded nitrates from the cells and has proven benefits to the end of the reproductive process and can also help during issues with over fertilization during the growing process. By slowly stripping away old nutrients allows the plant to come to complete ripeness naturally.




Promotes growth of underdeveloped products to even out the yield

Pushes the nutrients towards the reproductive organs to aid in the growth

Promotes overall health of plant and crops

Designed to not strip the plant suddenly of all nutrients




Grow World is a leading retailer of products and equipment used in hydroponic gardening throughout the UK. They work with hydroponic equipment and products manufacturing leaders to give you the excellent quality and best price you deserve. They stock 250mL and 1 Litre bottles of VitaLink Finale to bring your garden up to the healthy and better crop yield you desire.

Grow World prides themselves on professional customer service and gives you qualified and trained hydroponic technicians to guide you through the complete hydroponic home gardening process.
Dosage recommendation is 3mL to 4mL per 1 Litre of water.
Vitalink Finale