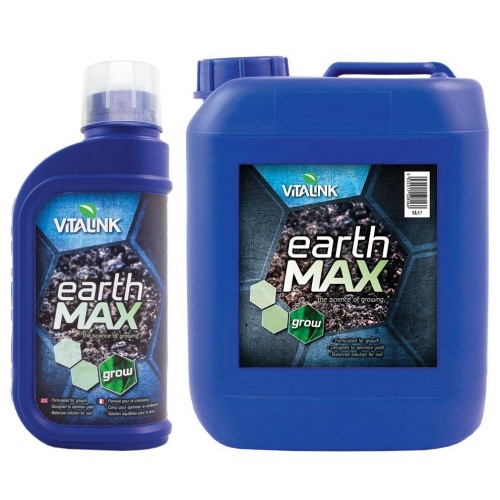 VitaLink Earth Max Grow is scientifically formulated to help plant life grow faster and stronger in soil and compost media. This powerful additive gives the plants the optimum levels of micro nutrient and macro-nutrient along with other highly required soil bacteria's to provide the best organic feed possible to fuel your plants' cells.

The fulvic acid added to VitaLink Earth Max Grow helps the plants absorb the nutrients, like carbon and nitrogen, easier and increases their uptake to the reproductive organs. This increased uptake of nutrients lends itself to higher quality yields that surpass normal crop growth and give more even and highest possible yields.

The use of VitaLink Earth Max Grow will turn your home garden into a beautiful, natural landscape of strong plant life with super absorbing root structures and overall great plant cell health. The plants will be full of vitality, give higher yields that are of top notch quality.


Benefits of using VitaLink Earth Max Grow:




Proven to produce higher yields in healthier, stronger plants

Can use either irrigation systems or watered by hand

A super mineral based additive to soil and the added benefit of fulvic acid for better nutrient uptakes




VitaLink Earth Max Grow is best used in the first 3 weeks of growth when the much needed nutrients need to reach all of the plant cells fast. VitaLink Earth Max Grow is proven to produce stronger, healthier plants that produce higher yields and quality crops.

If you are on the lookout for great support, equipment and nutrient products help for your home garden, Grow World, the leading hydroponic and gardening retailer throughout all of the UK,will give you just what you need. We pride ourselves on our expert garden and hydroponic technicians to provide you with knowledgeable guidance, proper use of instructions on products and equipment and only give the most professional customer relationship experience.

Grow World works with hydroponic and gardening manufacturers of products and equipment to give you the best prices and a knowledge base that is extremely beneficial. We stock VitaLink Earth Max Grow in 1 Litre and 5 Litre bottles to serve any gardening needs.

Dosage instructions: 1 to 2mL per 1 Litre of water for young plants and for mature plants, use 3 to 4mL per 1 Litre of water.
Vitalink Earth Max Grow