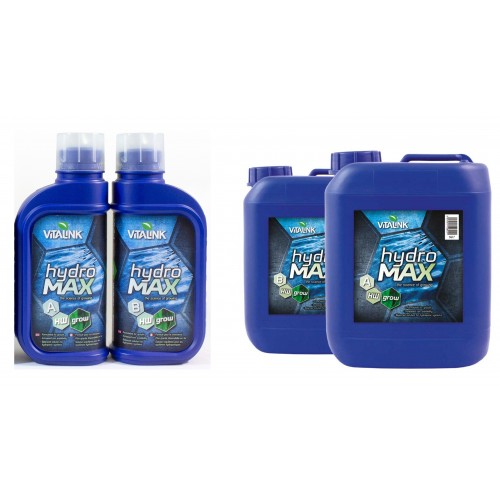 VitaLink Hydro Max Grow Soft Water is specially formulated for maximum growth during the early vegetative stages of the plant life cycle. This product contains all the essential basic nutrients needed for healthy development and growth with the addition of EDDHA for increased iron flow and also fulvic acid to enhance the nutrient uptake by plants. Iron is commonly found inmost natural soils, but cannot always be utilised by plants.

The added EDDHA in VitaLink Hydro Max Grow helps to prevent iron deficiency and promote root hair growth for an overall stronger root system by optimizing iron absorption. VitaLink Hydro Max Grow is designed for use in a variety of hydroponic systems including stone-wool, clay pebble and perlite with the added flexibility of being compatible with soft and hard water areas.


Benefits:


Promotes growth and root strength

EDDHA for improved iron availability

Suitable for use in a variety of hydroponic systems

Designed for soft and hard water areas

Added fulvic acid for optimum nutrient absorption

Maximises growing potential in the early vegetative stages




VitaLink Hydro Max Grow can be used alongside VitaLink Hydro Max Bloom for a visibly larger and denser yield with more impressive flowers and fruits. Formulated for use in the first three weeks of vegetation, adding VitaLink Hydro Max Grow to your nutrient schedule will maximise your plants growth potential and provide the best environment for a high quality final crop. VitaLink Hydro Max Grow is available in 1 litre and 5 litre bottles to suit your specific needs.

Here at Grow World, we aim to provide you with the outstanding service you deserve to assist with all your hydroponic needs. As the largest distributor of VitaLink products, we can provide the knowledge and understanding you require to answer all your questions and help you achieve the desired outcome from your house garden. Our professional experts can supply you with feed charts, helpful advice and support to suit all your hydroponic requirements.


Directions Of Use: In order to use VitaLink Hydro Max Grow as part of your nutrient schedule, use 1-2ml per litre for younger plants and 3-4ml per litre for mature plants.
Vitalink Hydro Max Grow Soft Water