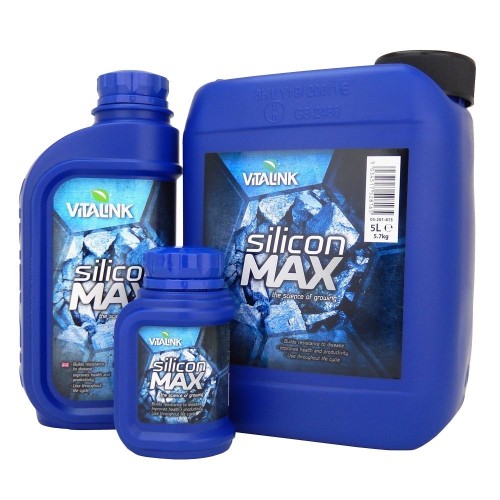 VitaLink Silicon Max has been developed to strengthen individual cell walls and help produce more resilient plants that can overcome common diseases and adverse weather conditions as well as pests and other difficult environmental changes. Silicon is a natural substance commonly found in most soils and by increasing the level in your house garden you can strengthen branches to support heavier fruit, make leaves more difficult for pests to penetrate and optimise hydration by increasing nutrient and water absorption through the roots. VitaLink Silicon Max has been specifically designed to develop the root systems of plants by increasing length, root hair formation and can also be used to raise the PH of your hydroponic system.


Benefits:




Protects plants against pests and stressful conditions

Strengthens individual cell walls

Concentrated formula that lasts longer

Increases nutrient and water absorption

Raises the PH of your nutrient solution




Due to its high concentration, VitaLink Silicon Max lasts longer and can be used throughout the entire plant life cycle. VitaLink Silicon Max is suitable for use with hydroponic systems,coco and soil media alongside a variety of other VitaLink products as part of your nutrient schedule.

Grow World is the leading distributor of VitaLink products and we pride ourselves on providing accurate and useful information to assist with your hydroponic needs. VitaLink Silicon Max is available for purchase in 250ml and 1 litre bottles and should you have any queries our professional experts are always prepared to assist with providing feed charts,additional information and dosage advice to suit your specific requirements.

From early stages of growth right through to flowering until two weeks before the final flush,VitaLink Silicon Max can be added at a rate of 1ml per 1 litre of nutrient solution to encourage root health and growth throughout the plant life cycle.
Vitalink Silicon Max