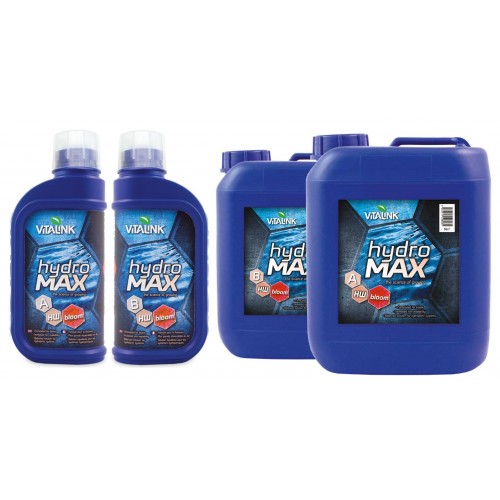 VitaLink Hydro Max Bloom Soft Water contains all the essential nutrients needed for healthy plant life with the addition of EDDHA and fulvic acid for visible improvement in overall flowering and yield in hydroponic systems. EDDHA increases the flow of iron which encourages new root sand root hairs for a strong, healthy root system. The inclusion of fulvic acid in VitaLink Hydro Max Bloom is also beneficial to plant health by maximising the nutrient uptake for optimum flowering and a denser, healthier yield. Designed for use during the blooming stage to give plants an extra boost, VitaLink Hydro Max Bloom can be used in a variety of hydroponic systems including perlite and clay pebble and is also suitable for use with soft and hard water areas.


Benefits:


Contains EDDHA for increased iron uptake

Promotes growth and plant development

Designed for use during the bloom stage

Enhances flowering and root growth for an abundant yield

Suitable for a variety of hydroponic mediums

Includes fulvic acid for maximum nutrient absorption




VitaLink Hydro Max Bloom has been specially formulated for use from week 1 to week 8 of the bloom stage for stronger, healthier plants with more impressive flowers and fruits.Combined with

VitaLink Hydro Max Grow

during the early weeks of the vegetation stage,you can improve the efficiency and quality of your plants whilst optimising their flowering potential. VitaLink Hydro Max Bloom is available for purchase in quantities of 1 litre and 5litre bottles to suit your specific requirements.

At Grow World, the largest distributor of VitaLink products, we aim to provide you with the support and service that you need to ensure you get the very best from your hydroponic garden. Our professional and friendly staff members are here to answer any questions you may have, to assist you in making the most of your garden. We can provide you with feed charts, equipment advice, product recommendations and professional support to suit all your hydroponic needs.

Directions Of Use : Simply add VitaLink Hydro Max Bloom to your hydroponic system at a rate of 3 - 4ml per 1 litre of your nutrient mix for visible results from week 2 to week 8 of the bloom stage.
VitaLink Hydro Max Bloom Soft Water