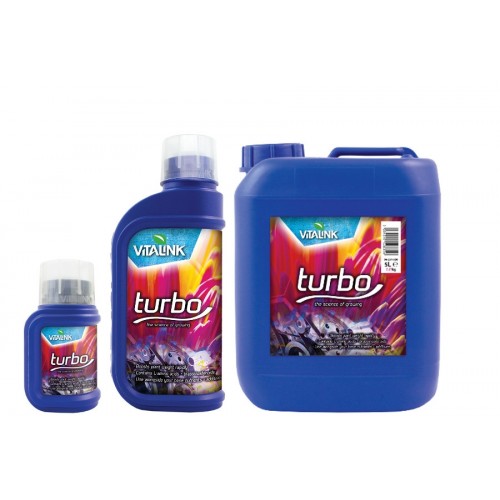 Vitalink Turbo is a potent mixture of hormones known for stimulating vigorous growth of plants along with energizing them. It contains Brassinosteroids and L-amino acids that work in several ways, from helping to speed up the plant's metabolism to making it immune to pests & diseases to relieving stress due to environmental damage. L-amino acids also work as building blocks for proteins in plants. Other ingredients of Vitalink Turbo are cytokinins, glucoside and lignin salts in small quantities. Scientific studies have proved that the use of all these ingredients in Vitalink Turbo makes a remarkable difference in size of flowers and fruits taking them into 'Turbo' mode yielding the best possible results.

Brassinosteroids and L-amino acids contained in Vitalink Turbo works favorably by increasing the speed of growth, decreasing recovery time after stress, growth of thicker branches and finally a richer harvested crop. All these desired benefits are observed in minimum of time thus giving the plants extra dose of building blocks that it requires for healthy growth.

Features:

· Contains Brassinosteroids and L-amino acids
· Stimulates faster plant growth
· Is a form of steroid for your plant
· Speeds up branches and veg growth
· Helps to increase the size of flowers and fruits
· Makes the plant immune to pests and other diseases
· Strengthens the immune system of plants protecting them from adverse environmental conditions
· Keeps Plant stress (caused by insects, molds and extreme weather conditions) at bay
· For desired results use it halfway through the growing phase
· Dilution rate is 1ml per liter.


Working of Vitalink Turbo

· Vitalink Turbo provides plants with building blocks for proteins. Since proteins are necessary for plant growth it is the L-amino acids that work as building blocks for proteins

· Brassinosteroids contained in Vitalink Turbo are plant hormones that energize plants, leading to increase in the size of flowers and fruits.

· The Turbo formula was primarily formulated to help plants from pests, diseases and harmful elements in the environment. When Vitalink Turbo was used on plants, they actually outgrew other plants not treated by the turbo formula.


Dosage:

The ideal dose of Vitalink Turbo is 1ml per liter of normal feed water or reservoir. Shake the bottle well before use and stir the dose in the water well before using it. Vitalink Turbo being a natural product has a distinctive pungent aroma. Once the bottle is opened the smell develops over time but optimum results will typically remain the same.

Although Vitalink Turbo can be used any time during the growth cycle of the plant, but for best results use it from 2 weeks before flowering and throughout the flowering period. Ensure that you use your normal nutrients and additives alongside Vitalink Turbo. But make sure that you do not mix the concentrated forms of the nutrients together. The best way is to add each nutrient in your water feed, mixing it well, using it and then adding the next one. You can use the Vitalink Turbo in any system from hand watering to hydroponic setups.

Vitalink Turbo is available in three sizes, 250ml, 1 liter and 5 liter containers.
VitaLink Turbo