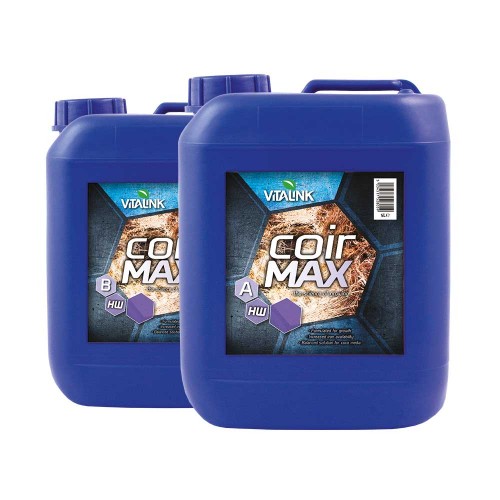 VitaLink Coir Max A&B Soft Water is a coco coir nutrient feed base for hydroponic home gardening. Coco coir is made from ground up coconut husks and has outstanding oxygen to water ratio and provides a fungus free nutrient rich environment for plants to start out strong and promotes great growth performance throughout all stages of growing from seedling to bloom.

VitaLink Coir Max A&B is a two-step feed program and can be used throughout the entire growing process. It has been fully tested and provides a consistent 2 step base nutrient that can be used with all VitaLink boosters and additives. VitaLink Coir Max is formulated to work in all water conditions and comes in both hard water and soft water varieties.

VitaLink Coir Max grow formula (A) has more Nitrogen to help boost the growth of the plant throughout all stages of growth. It has increased EDDHA to improve iron levels naturally. The VitaLink Coir Max bloom formula (B) delivers more phosphorous to kick the reproductive stage into gear. With the added uptake of nutrients by the inherent fulvic acid will add the ability for larger crops and higher yields.


Benefits of using VitaLink Coir Max :




Uses natural coco coir that is sustainable and environmental friendly

2 step system to keep your plants healthy, strong and productive from grow to bloom

Safe and effective use with all VitaLink additives and boosters




VitaLink can be bought in 1 Litre and 5 Litre bottles for any size home hydroponic garden. If you desire to have your plants in your hydroponic garden to grow strong and healthy and give you an abundance of crop yields quickly, Grow World, the leading retailer of hydroponic products and equipment in the UK, will give you what you need.

Grow World prides themselves on professionalism and offering guidance and support to all their customers. Our hydroponic professionals will help you develop a hydroponic gardening dream.We work with all major hydroponic equipment and product manufacturing distributors to keep costs low and provide knowledgeable information regarding their uses.

Directions Of Use : VitaLink Coir Max for young plants should be from 2 - 3mL per 1 Litre of media and for mature plants 3 - 4mL per 1 Litre of media.
Vitalink Coir Max A&B Soft Water