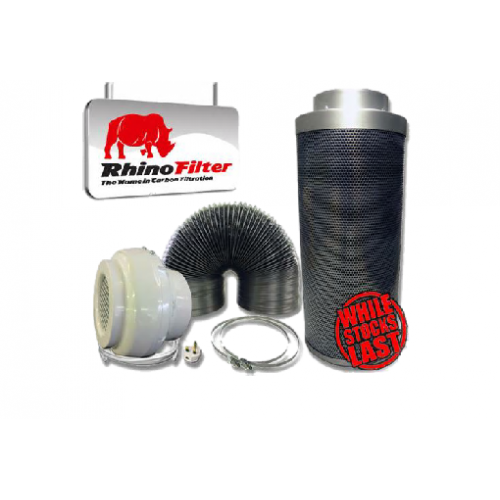 Rhino Pro Extraction Kits With Aluminium Ducting


The Rhino Pro Extraction Kit with aluminium ducting is a step up from the Hobby Extraction Kit and the difference would be that it covers a larger room area. In addition, the Rhino Pro filters have extra carbon to ensure a better filtration effect and longer life.


Systemair RVK Sileo Fan


Super silent and has the capacity to move great volumes of air in greenhouses and grow rooms

The external rotor motors and backward curved blades mean a great look and a safe construction

No matter the shape of your greenhouse or grow room you can attach this Systemair RVK fan horizontally or vertically on a wall or ceiling

The fibreglass reinforced plastic casing means you have a sturdy and strong envelope for this fan

If you are worried about the temperature your plants will be growing at, attach a

Rhino fan speed controller

to your Systemair RVK fan and be confident from word go

The carbon filters are built to relieve terrible scents in the air, dispel them and ensure the good air is brought in




Rhino Pro Carbon Filters
Australian-mined RC412 carbon is what makes up the Rhino Pro Carbon Filter and is seen as the best in the world. In the base of the vortex cone, you will find a good density of carbon, but this filter is lightweight and smaller to handle, no matter whether you are a novice or expert grower.



The Rhino Pro filters have a lifespan of 9 to 18 months and if you want to prolong their life to close to 2 years, purchase replacement carbon sleeves as well.





Ducting and Clamps
The Rhino Pro Kits come standard with Rhino aluminium ducting and 2 authentic Rhino clamps, so you don't have to worry about receiving inferior accessories plus a fast clamp for easily attaching you filter to the fan.




Whats Included
13amp 3 Pin Plug with 5m Cable

Rhino Pro Carbon Filter

5 Metre Rhino Aluminium Ducting

2 x Rhino Ducting Clips

1 x Fast Clamp
Rhino Pro Extraction Kits (Aluminium Ducting)