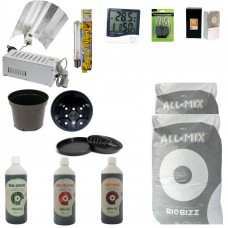 BioBizz Starter Grow Kit
Our BioBizz Starter Grow Kit is a super growing kit for an introduction into coco growing with everything needed for a successful harvest like a complete grow lush 600w grow light kit that delivering 91.000 lumens via a dual spectrum lamp and excellent organic growing medium and nutrients from the world renowned BioBizz delivering superior results as well as light hangers, timers measuring jugs, thermometers and more.


Growlush 600w Light Kit
Gardeners and professional Growers are looking for reliable results from their HID lighting needs, look no further than a high quality and long lasting 600 watt grow light kit from grow lush.
Its straightforward heavy duty quality and highest insulation level of Class-H. Highlight its easy operation, with headache-eliminating plug and play with 220/240-volt supply. This HPS Ballast includes a 220-240 volt power cord.
1x Grow lush 600w Ballast
1x Grow lush 600w Dual Spectrum Bulb
1x Euro Style Reflector


Powerplant Heavy Duty Timer
The PowerPlant Heavy Duty Timer is different. It is designed to take high loads and has no problem dealing with the inductive loads produced by a 600w ballast. This means no separate contactor/relay is required and saves you money. It has a 96 switching operations within a 24 hour period (every 15 minues). This timer is suitable for timing one 600w HID ballast. It has a robust case design with socket and timer dust/moisture covers. Normal household timers are not built to take the high inductive loads produced by HID ballasts. If used with an HID ballast - the contacts inside the timer that open and close the timed circuit will overheat and weld together - breaking the timer and leaving your grow lights permanently on.



The LUMii Rope Ratchet
The LUMii Rope Ratchets adjust the height of your reflector to get the most light to your plants as they grow. They pull tight, lock into place and they are really durable. They are tough and are heat and cold resistant.
Each LUMii Rope Ratchet has two quick release carabiner clips at each end for ease of use and 2.4 metres of tough braided polypropylene rope.
BioBizz All Mix
BioBizz All Mix is a heavily pre-fertilized soil mixture. It has been designed to emulate rich outdoor soil with a full micro active eco system, but in such a way that it has enough power to sustain lush plant growth for a couple of weeks with no extra fertilizer input required. BioBizz All Mix creates fertile growing conditions throughout the year. All we have to do is provide a perfect environment to encourage the plants to flourish.


How to use BioBizz All Mix
When using BioBizz All Mix for the first time, moisten the substrate and leave to stand for 36 hours. This will give the active fertilizer Pre Mix and the microorganisms it contains a chance to start working before the plant goes in.


Keep the soil slightly warm at all times, as reducing the soil temperature slows down microbial activity, which makes it more difficult for the plant to grow. Allow the soil to dry out between each watering. As the substrate dries out fresh air is introduced - soil needs to breathe too!


BioBizz Bio Grow
BioBizz Bio Grow is a liquid growth fertilizer which can be applied to most types of soil and substrate mixtures. Bio Grow activates the bacterial flora in the substrate thanks to it basis of 100% Dutch organic sugar beet extract, commonly known as vinasse. Vinasse is syrup that contains sugar.


The natural sugars and potassium in Bio Grow are the guarantee for an ample harvest with very sweet fruit.


How to use BioBizz Bio Grow
Bio Grow is a complete fertilizer for the growing period. Start with Bio Grow as soon as the first leaves appear and the plant has a height of 10 to 15cm. Keep using Bio Grow till the end of the fruit production.



BioBizz Bio Bloom
BioBizz Bio Bloom is a complete liquid organic fertilizer which contains a small amount of nitrogen and enough phosphorous and potassium to ensure exuberant flowering.


Trace elements and hormones of vegetable origin are also added to improve the flowering process. Bio Bloom also contains enzymes and amino acids, which work in harmony with the soil to promote flowering and fruit production.


Therefore Bio Bloom is an independently working fertilizer to be used during the flowering period on soil, soilless media such as Coco Mix or in soil enriched with cocout fibres.


Moreover, Bio Bloom allows strong stems and thus a strong plant!


How to use Bio Bloom
Bio Bloom can be used from the flowering period till the harvest. Biobizz advice is to add per litre water approx. 2 - 4ml Bio Bloom. Follow our grow schedule for the best results.


BioBizz Top Max
BioBizz Top Max is a 100% organic flowering strengtheners which has the threefold purpose of increasing the actual size and weight of clusters of flowers, leaving a sweet, smooth taste in the finished product and facilitating the uptake of nutrients by the plants.


Top Max liberates ions like calcium, iron and magnesium, which stimulate the metabolism of the plant.


The special way in which Top Max activates the flow of nutrients is made possible by the use of humic acids.


How to use Top Max?
Top Max can be used during the complete flowering period. In the first weeks we advise a dose of 1ml per litre water. In the weeks before the flushing the dose can be increased to 4ml per litre water. Follow our grow schedule for the best results.




WHAT'S INCLUDED




1 x 600w GrowLush Light Kit
1 x Powerplant Heavy Duty Timer
1 x Rope Rachet Hangers (Pair)
1 x Digital Thermo-Hygrometer
1 x 5 metre Total Blackout Sheeting
2 x BioBizz All Mix 50 Litre
1 x BioBizz Bio Grow 1 Litre
1 x BioBizz Bio Bloom 1 Litre
1 x BioBizz Top Max 500ml
5 x 3 Litre Round Pots
5 x 15 Litre Round Pots
5 x 15 Litre Saucer
2 x 10ml Syringe
1 x 100ml measuring cup
BioBizz Starter Grow Kit