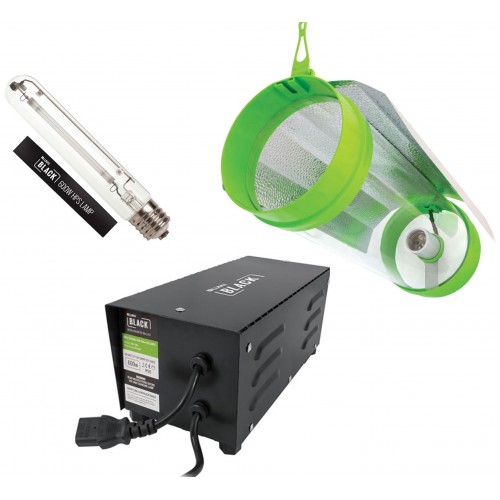 6" Lumii Black 600w Cool Tube Light Kit
A Great value for money grow light kit 6" lumii black 600w cool tube light kit one of the UK'S biggest value brands so rest assured quality and customer service will be on your side. Includes lamp, ballast and reflector, suitable for start to finish.


6" 150mm Lumii Cool Tube Reflector
The LUMii Cool Tube is the latest inline air cooled reflector. This innovative product, when used in conjunction with ducting and a extractor fans, allows air to flow through the reflector helping to control the environment temperature.
Simple and very effective way of ensuring you chosen lamp runs cool enabling it to be positioned directly above the plant without the risk of heat damage.
These brilliant light fittings take 90% of the heat away from your plants so you can control your environment easily and achieve maximum rated lumens delivery from your lamps just attach a new or to your existing fan to air cool these lights.
Most lamps should be mounted at least 10" above plant canopy to reduce chance of scorching. Now you can let your plants touch the glass of this reflector without the worry, watch your flowers burst with life as they soak up all that normally wasted high lumens light.


Lumii Black 600w Grow Lamp
The LUMii BLACK Lamp is a 600w Dual spectrum Lamp with an E40 fitting.
Offering raised blues, this bulb is perfect for stimulating enhanced flowering.
The LUMii BLACK Lamp offers 20,000 life hours and 88,000 Lumens.
For best results.


Lumii Black Magnetic Ballast
The LUMii BLACK Metal Magnetic Ballast is supplied with a flying IEC lead which enables you to add any reflector fitted with a universal IEC socket. It's simple to start growing, just add a reflector and a lamp with the same wattage as the ballast. T
he well vented metal-case ensures the ballast runs cool and quiet and features wall-hanging brackets making them fully wall-mountable, thus making more space in your grow room.
The LUMii BLACK Metal-Cased Magnetic ballast can be used with any 600w HID lamp – however we recommend using a LUMii BLACK 600w Dual spectrum lamp to get the best results.
6" Lumii Black 600w Cool Tube Light Kit