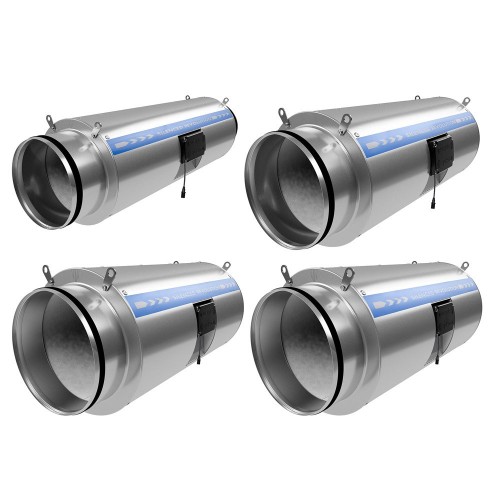 Systemair Revolution Silenced Vector EC Fan
The Revolution silenced fan is the ultimate in silenced fans. Systemair designed and developed the quietest most efficient fan on the market and then wrapped it in a purposely designed acoustic housing.
The white acoustic foam is specially designed to absorb noise without restricting the air flow. The foam is certified for use in air acoustics applications and does not absorb moisture or dust.



Sealed housing so no possible leaks

Superior performance and air flow

The most efficient fan is now the quietest

Fully serviceable

Maintenance free and reliable quality – made in Germany

5 Year Guarantee

Latest state of the art energy saving EC technology.

Single piece molded fan housing, no possibility of air leakages.

No humming, buzzing even on lower speeds.

Minimum fan speed can be altered from 0-100% with EC fan controller.

Maintenance free and reliable quality - made in Germany.




Revolution Silenced EC Vector fans feature aerodynamically optimised impellers and guide vanes with integrated external rotor motors to deliver optimal performance levels and power. To protect the motor from overheating the fan has integrated electronic motor protection.
EC (electrically commutated) Vector Fans combine AC and DC voltages to bring you the pinnacle of extraction fan technology. Easy speed controllability with precision, lower power consumption and higher quantities of air movement are standard with this truly exceptional range of extraction / inlet fans.



ALL EC FANS MUST BE CONNECTED TO AN EC CONTROLLERS
Systemair Revolution Silenced Vector EC Fans