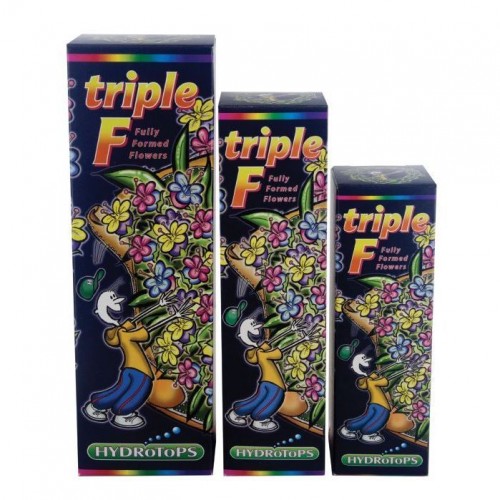 HydroTops Triple F
HydroTops Triple F utilises two components to trigger an explosive flowering response in the flowering period. The first component comes in tablet form, which is a blend of micro-organisms that work in conjunction with your roots and growth medium to boost nutrient uptake. The second component then acts as a catalyst on these micro-organism's, acting as a food source for them to thrive, developing a symbiotic relationship between the root zone and media. All this increased activity in the rhizosphere produces a frantic flowering response, adding further weight to already heavy flowers. HydroTops Triple F, along with the rest of the HydroTops range, contains no PGR's, meaning there are no health risks involved or environmental damage done by using this product, just great results every time.


Features:




HydroTops Triple F is a 100% natural, microbial based fruit and flower booster

Increases yields and nutrient uptake by up to 50%

No plant growth regulators involved, totally safe with no harmful chemicals

Creates a symbiosis between your plants roots and micro-organisms from Triple F


Use HydroTops Triple F from the second week of flowering until two weeks prior to the end of the flowering cycle. Add once a week with every nutrient reservoir change. If using HydroTops Triple F in soil or coco then you can use it once or twice weekly. You cannot overdose using Triple F. One tablet application treats 50 litres of nutrient feed, along with 25ml of the catalyst liquid per 50 litres of water.


HydroTops Triple F 125ml - treats 250 litres

HydroTops Triple F 250ml - treats 500 litres

HydroTops Triple F 500ml - treats 1000 litres




Please note: HydroTops Triple F is a living product, therefore you're adding life to your nutrient tank and root system that can be damaged by the use of hydrogen peroxide products, such as Silver Bullet Roots. Do NOT use such products in your growing system when using Hydrotops Triple F unless absolutely necessary, as this will severely restrict (or even kill) all bio-activity in your root zone.

HydroTops Triple F