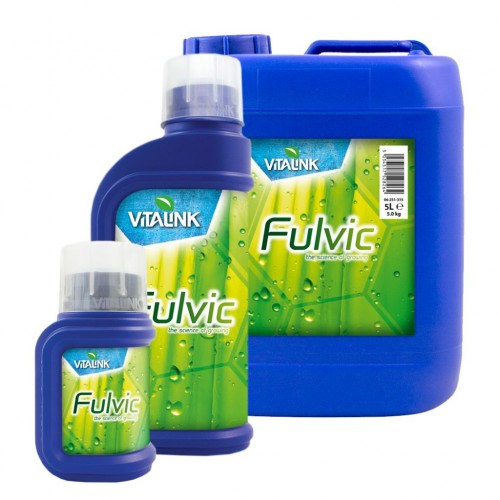 VitaLink Fulvic


VitaLink Fulvic is a pure Fulvic acid that aids in boosting the metabolism process in plants. Fulvic acid is produced during decomposition of plant matter found naturally in nature. When decomposition happens millions of microbes are released into the soil or water creating healthy bacteria to plant life. The healthy bacteria aid in the transportation and nutrient uptake throughout the growing process to produce quicker and healthier crop yields. It promotes proper root processes and aids in overall growth of plants by enabling the transport of nutrients,vitamins and minerals throughout the plants cells. Fulvic acid is a natural organic matter found inthe pure soils of the earth and helps to deliver the nutrients that are harder for plants to absorb.
VitaLink Fulvic binds to the molecules of nutrients aiding in their delivery to the reproductive cells to help develop healthier more robust crops and plants. The ability of VitaLink Fulvic to become bound to the nutrients gives mobility and better absorption of nutrients. VitaLink Fulvic helps develop plants with more robust root systems, overall healthier plants that grow quicker,and produce higher yields. Fulvic acid is a viable plant growth stimulator that can be a root feeder or as a spray on foliage.
VitaLink Fulvic has been designed to aide in the metabolism process in plants and has numerous benefits for quality and quantity of crop yields and overall health.



Promotes mobility and nutrient uptake to the reproductive cells

Provides greater root strength which propels growth of the overall plant and crops

The acid bonds to the nutrient compounds which makes absorption faster and sustainable

Combined with other nutrients and elements in the soil or water enhances results



VitaLink Fulvic is a powerful ingredient to help your plants absorption and transport of the required nutrients. Grow World offers the best in price and professional guidance and have a full line of nutrients and supplements.
Grow World works with hydroponic equipment and product manufacturers to provide you with the best products and services available throughout the UK. They are a leading retailer for all your hydroponic gardening needs. With professional and courteous service that gives guidance on all product uses and our experts are highly skilled and knowledgeable about all things hydroponic.

For root soil or water feed 2mL per 1 Litre of water and spray dosage is 10mL per 1 Litre of water
Vitalink Fulvic