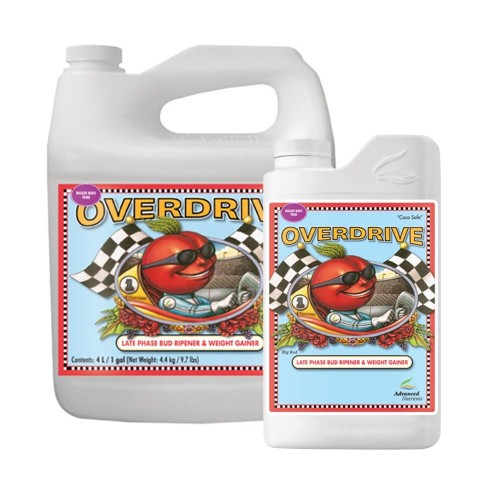 Advanced Nutrients Overdrive is a powerful liquid to give peak performance in the last stages of plant growth. It gives an added boost of ingredients that will propel flowering to its maximum ability to create an overabundance and outstanding sized yield. Scientific studies have proven that plants in their final stages of growth stop promotion of crop production and adding in Advanced Nutrients Overdrive to your garden will give it a last minute boost of energy to provide larger and more robust crop yields.


Benefits of Advanced Nutrients Overdrive:


Improved nutrient uptake and increased photosynthesis to make sugars into energy

Increases reproduction for higher yields that are larger

Plant develops better resistance to diseases, bacteria and environmental stressors

Over 20% enhancement in size and weight of crops

Increased internal and external overall health of plants and crops


Advanced Nutrients Overdrive has a special mixture of Phosphorous, Potassium and other facilitating compounds to give rapid growth to your crops while enhancing taste and weight. The catalyst compounds are:




Ascorbic acid- Turns sugars to energy thus promoting greater photosynthesis

Magnesium sulfate & Phosphate- activates plant enzymes, promotes photosynthesis, improved crop production and overall plant health

Potassium Nitrate & Phosphate- stimulates early growth, improved root structures, proper uptake of nutrients and improves protein production and overall health of plants


Advanced Nutrients Overdrive is designed to be used with coco-coir, hydroponic or soil mediums and mosses.
Dosing: During the last couple of weeks of flowering use 2ml per 1 Liter of medium


Advanced Nutrients Overdrive used with

Advanced Nutrients Big Bud can provide larger more robust crops that have higher quality and more flavor than those not grown using Advanced Nutrients Overdrive. The overall plant health and the reproduction stages are accelerated by a burst of ascorbic acid and other nutrients to strengthen roots and stimulate growth of crops that are highly potent and larger with an increased size and weight over 20%.


Advanced Nutrients Overdrive