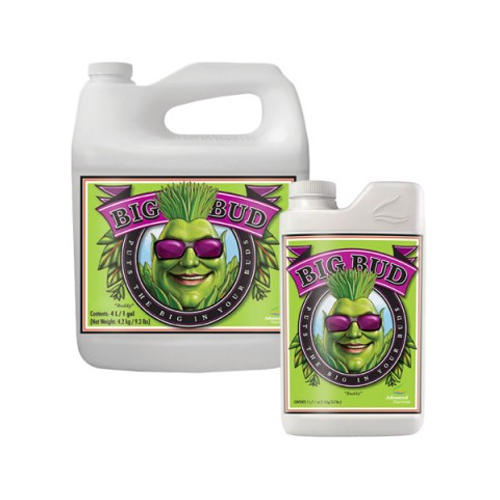 Advanced Nutrients Big Bud


Advanced Nutrients Big Bud has been scientifically studied and proven to give the proper ratio of amino acids which are proteins terpenoids, alkynoids and phenols. The L-form amino acids are important to the promotion of yield growth and potency along with the creation of glutathione which is an internal plant protection composite. The L-forms of amino acids are more easily absorbed by the plants unlike the D-forms of amino acids. The most important L-forms of amino acids are:




L-tryptophan- Gives the plant much needed floral growth hormone called indole acetic acid which gives bigger buds with more potency.

L- glutamate- promotes strong root growth and branching ability to the roots.

L-cysteine and L- glycine- promotes growth of glutathione for protection from bacteria's and pathogens. L-cysteine emits Sulphur and L-glycine promotes plant tissue growth and chlorophyll synthesis.


Potassium and phosphorus must also have a balanced ratio when trying for larger produce yields, and when combined with the L- form amino acids, plants will have better formed, larger produce with better taste and potency.


Citric acid and ascorbic acid also play a huge role in overall plant health and greater yield density and heartiness. Citric acid promotes healthy cellular respiration giving better uptake of nutrients to other plant cells and helps turn sugars into food compounds while ascorbic acid revs up photosynthesis.



Benefits of using Advanced Nutrients Big Bud:



Larger more robust produce

Higher potency and heartier growth and prominence




Dosage: Weeks 2-4 2 ml per 1 Litre of water




If you desire larger more potent crops with larger secretion of essential oils and overall top rated quality yields then Advanced Nutrients Big Bud will not disappoint even the most profound hydroponic gardener around. With the improved nutrient uptake and propelled reproduction your crops will amaze you. Superior Results when used with

Advanced Nutrients Overdrive

Advanced Nutrients Big Bud