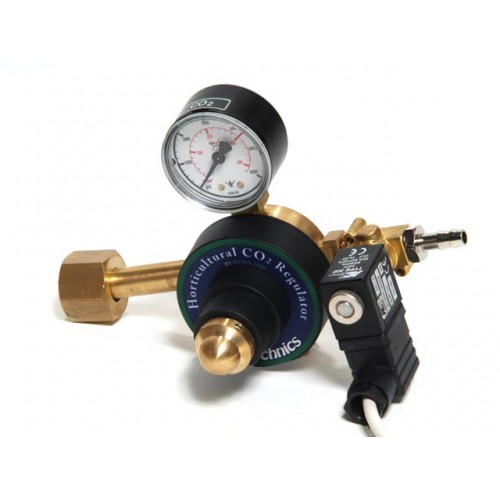 Ecotechnics Evolution CO2 Regulator


The Ecotechnics Evolution Co2 Regulator is the perfect Bottled Gas Regulator for use with the Evolution CO2 Controller, we have this regulator produced for us in the UK from top quality components it has a fixed flow rate of 17 Litres per Minute and is our standard horticultural regulator.


Overview:

• User friendly CO2 Regulator that's very reliable.
• The CO2 Regulator is really simple to set up and use.
• Compatible with Unis CO2 Controller and Evolution CO2 Controller

• Full 1 year warranty.


Carbon Dioxide:
The ambient level of CO2 in air is 300-400ppm, fast growing plants in your growroom or glasshouse can use all the available CO2 in less than an hour slowing photosynthesis and therefore growth to a virtual halt.Therefore Carbon Dioxide is one of the most important factors in an indoor growroom or glass house.


Photosynthesis:
Photosynthesis is the term used to describe the process by which plants combine CO2 molecules with water molecules to form complex sugars, there is a resultant spare oxygen atom which is released back into the air, the sugars being further processed by the plant to form natural polymers for growth
Ecotechnics EVO C02 Regulator