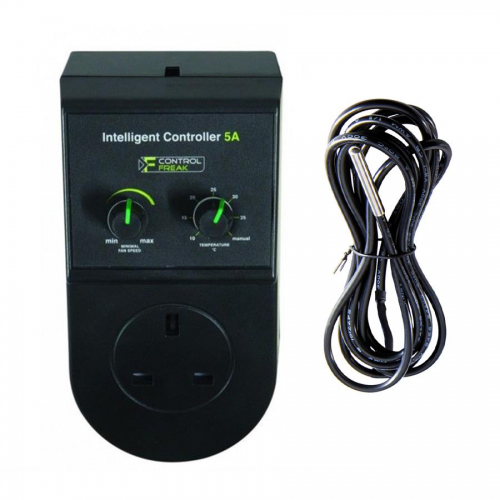 Control Freak 5 amp Plug In Fan Speed Controller With Probe


The Control Freak Plug-In is an extremely cost-effective way to adjust the speed of your intake or outlet duct fan with the turn of the knob! Choose the bundle with a temperature probe and you can automate your fans to maintain your chosen room temperature. A great starting point for those looking to take control of their growroom environment.
Regulates fan speeds for an optimal environment and faster growth rates
Comes in at a great price - incredibly cost effective
Plugs straight into a mains socket
Wide adjustment fan-speed control
Can supply up to 1150 watts (5 amp)
Please note: though digital fan speed controllers (like this one) are a very cost-effective solution, they may generate a humming sound. This is an unavoidable consequence of using 'pulse width modulation' to regulate fan output. We highly recommend G.A.S Enviro Controller V2, which instead use heavyweight transformers and run completely silent.
Control Freak 5 amp Plug In Fan Speed Controller with Probe