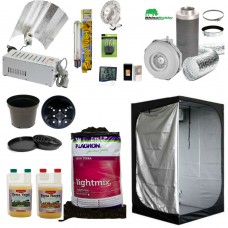 Canna Terra 120cm Grow Tent Kit
The Canna Terra Complete 120cm Grow tent Kit includes everything needed for up to 5 large soil grown plants whilst achieving a superior crop with ease. only the best will do with our grow kits with products like the 5 inch rhino hobby extraction kit to keep temperatures and unwanted smells in check and a excellent 600 watt grow light kit featuring a dual spectrum grow lamp, we have also selected the finest nutrients and growing medium and the dont come much finer than the mighty Canna plus much much more to achieve a successful crop.


Mammoth Lite 1.2m x 1.2m x 2.0m Grow Tent
Designed with strict specifications and extreme quality, Mammoth Lite Grow Tents provide superior durability. They are extremely affordable and easy to assemble so that even a novice gardener can easily assemble this product. As well, they won't have to spend a lot of money on complicated tents when they are just starting out and are looking for the best method to contain their garden. Both professional and private growers worldwide have high acclaim for this easy to assemble and outstanding grow tent.


The Mammoth Lite Tent is ideal for smaller gardens, especially during the vegetative stage. It is also ideal for drying your crop after harvest.



Features:



Designed with highly reflective Mylar to ensure up to 955 light reflection ratings

Strong steel frame designed with 16mm tubes

Free of PVC so you plants will not be harmed

600D polyester inside coating

Removable filter for spills (also waterproof)

Fully adjustable exhaust and intake vents

Made with high quality thick Mylar cloth

Outlet/inlet vents for fan/exhaust systems.

Machine washable materials

Perfect drying environment during harvest

Does not require much storage when disassembled



5" Rhino Hobby Extraction Kit
The Rhino Hobby Extraction Kit, like most German-made items, is built to stand the test of time. When you need large volumes of air removed, especially hot and stale air, then you want to consider a Systemair RVK fan.
Greenhouses and Grow rooms often can get suffocatingly stuffy and the air content unbearable for humans as well as the plants. The use of a fan can do wonders. And when it's the Systemair RVK fan, you can be assured of the most silent and reliable fan out there.


Benefits of the Systemair RVK
This fan mounts easily either horizontally or vertically and comes with a bracket, where any wall or ceiling will do

If you want extra control, fit the Systemair RVK fan to a Rhino fan speed controller and know that you can ensure your plants grow at the correct temperature

By utilizing active carbon along with the fan, you can absorb undesirable odours. In addition, make the use of an extraction fan which will restore fresh air to the greenhouse or grow room

So, you know you are getting a strong and reliable fan, the casing is made from fibreglass reinforced plastic

For safety and a good look, all the Systemair RVK fans are fitted with external rotor motors and backward curving blades







The Carbon Filter
The Rhino Hobby filters are mimicked on the Rhino Pro range, so you know you are getting a quality carbon air filter. The carbon is what attracts and absorbs the bad air and pollutants, so is a very important part of the filter system. The only difference between the Hobby filter and the Pro filter is that there is a lesser density of carbon in the Hobby, 30mm precisely. But this is easier for a novice grower to handle and manage.


The reversible neck, one of its kinds on the market, will help extend the life of the carbon and ensure it reaches its 12 month lifespan, if not longer.


Ducting and Clamps
All the Rhino Hobby Kits come with Rhino ducting and 2 Rhino clamps. All additions are genuine Rhino accessories.


Included in the Rhino Hobby Extraction Kit
5 inch Systemair RVK Sileo Fan

5 inch Rhino Hobby Carbon Filter

5 Metres of 5 inch Rhino Aluminium Ducting

2 5 inch Rhino Ducting Clips



Growlush 600w Light Kit
Gardeners and professional Growers are looking for reliable results from their HID lighting needs, look no further than a high quality and long lasting Magnetic Ballast!


Its straightforward heavy duty quality and highest insulation level of Class-H. Highlight its easy operation, with headache-eliminating plug and play with 220/240-volt supply. This HPS Ballast includes a 220-240 volt power cord.


1 x Grow Lush 600w Metal Cased Ballast
1 x Grow Lush Dual Spectrum Lamp
1 x Euro Style Reflector


Powerplant Heavy Duty Timer
The PowerPlant Heavy Duty Timer is different. It is designed to take high loads and has no problem dealing with the inductive loads produced by a 600w ballast. This means no separate contactor/relay is required and saves you money. It has a 96 switching operations within a 24 hour period (every 15 minues). This timer is suitable for timing one 600w HID ballast. It has a robust case design with socket and timer dust/moisture covers. Normal household timers are not built to take the high inductive loads produced by HID ballasts. If used with an HID ballast - the contacts inside the timer that open and close the timed circuit will overheat and weld together - breaking the timer and leaving your grow lights permanently on.


The LUMii Rope Ratchet
The LUMii Rope Ratchets adjust the height of your reflector to get the most light to your plants as they grow. They pull tight, lock into place and they are really durable. They are tough and are heat and cold resistant.


Each LUMii Rope Ratchet has two quick release carabiner clips at each end for ease of use and 2.4 metres of tough braided polypropylene rope.


Plagron Light Mix
The Plagron Light Mix is a scientifically formulated mix of all the best types of peat, such as white, black, sphagnum, and worm castings peat. Peat is a great component, which helps as a fuel for your growing plants. Peat is made up of mainly decomposed veggies and is excellent for your garden.


This potting soil gives a real boost to a plants growth during the first 14 days with its minimal amount of nutrients. Thereafter you can gauge the addition of other important additions such as Plant Magic or Hesi as the plant needs it.


One of the other main ingredients is perlite, expanded volcanic glass, which adds in insulation or water retention for the plant during growth, as well as a prevention of soil compaction. The addition of fibre means your plants are getting maximum oxygen levels as well.

The Plagron Light Mix has a PH balance of 5.5 to 6.9, so is perfect for baby plants.


Canna Terra Vega
Specifically designed to bolster strong, lush shoot and root growth and development, Canna Terra Vega is a solo nutrient that contains all of the essential nutrients your plants require for optimal growth. Canna Terra Vega can be used indoors and outdoors as well as in both plant beds and containers. It is easy to use and dissolves easily in run-to-waste systems.


Canna Terra Vega contains high levels of nitrogen which allows for maximum absorption of both water and nutrients for optimal shoot and root development. The nutrients in Canna Terra will react in coordination with the medium to provide for excellent growth and development for a bountiful and lush harvest.


Terra products are not recommended for use with North American peat products, especially those of bulk grade, as they require long term pH control and lack a nutrient starter charge.





Directions for use:


Dosage: 50 ml solution per 10 Litre water max

Use 1-3 times per week for fertile soil or daily for less fertile soil

Not for use in hedges, reed beds, swamps or woods, surface waters, groundwater collecting areas or in protected nature reserves

Store in a dark place away from extreme heat or cold

Keep away from pets and children

Wash hands after use and wear protective gear such as gloves and goggles.



Canna Terra Flores
As a complete soil nutrient for plant growth during the flowering stage, Canna Terra Flores contains just the right amount of essential nutrients such as phosphorus and potassium needed to sustain the plants during the flowering cycle. Terra Flores helps stimulate both fruit formation and flavor. This extraordinary product can be used in both open soil and potting as well as in both indoor and outdoor environments. Both professional and private gardeners alike have raved about the benefits of this amazing feeding system.


Canna Terra Flores is so easy that even a beginner can use it with no problems. It dissolves quickly and easily and is designed for use with "run-to-waste" system. It helps prevent the soil from binding nutritional ions and is beneficial in fruit formation as it contains all of the necessary nutrients that your plants need during the flowering phase of development. With the perfect amounts of both phosphorus and potassium, your crop will have all the nutrients needed for a healthy growth and development during the flowering cycle.


Recommended dosage 50 ml Canna Terra Flores per 10 l water
Recommended usage at least 3x a week with use of a fertile soil, however it may be used daily if your soil is less fertile
Canna Terra Flores works exceptionally well on organic based soil-less mixes such as bark, peat, etc or with aerated calcareous soils
Do not over saturate or over fertilize your substrate
Do not use in reed beds, swampy or wooded areas, and surface water, in or near groundwater collecting areas, hedges or protected nature reserves.
Keep away from extreme cold and heat
Always wear protective gear (gloves, goggles, etc) when using Canna Terra Flores
Keep away from pets and children
Wash hands thoroughly after use



WHAT'S INCLUDED
1 x Mammoth Lite 1.2m x 1.2m x 2.0m
1 x 600w GrowLush Light Kit
1 x Powerplant Heavy Duty Timer
1 x Sileo RVK 125A1 Fan (5")
1 x Rhino Hobby 125mm x 300mm Filter (5")
5 metre 125mm Aluminium Ducting (5")
3 x 125mm Ducting Clamp (5")
1 x 13 amp Plug & 4 metre Cable
1 x Rope Rachet Hangers (Pair)
1 x Digital Thermo-Hygrometer
1 x 6" Clip on Fan
2 x Plagron Light Mix 50 Litre
1 x Canna Terra Vega 1 Litre
1 x Canna Terra Flores 1 Litr
e
5 x 3 Litre Round Pots
5 x 15 Litre Round Pots
5 x 15 Litre Saucer
2 x 10ml Syringe
1 x 100ml measuring cup
Canna Terra 120cm Grow Tent Kit