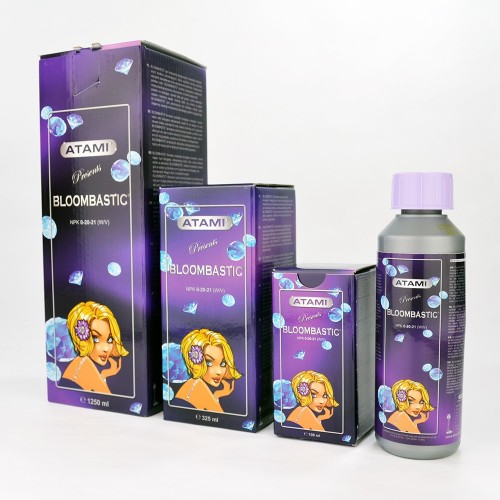 Atami Bloombastic





Atami Bloombastic is an accelerator of sugars into the plant structures causing super sweet smelling blooms that are heftier and more robust. Atami Bloombastic is a super mixture of bio stimulators and bio-minerals that is used in the last 4-6 weeks of bloom ripening to enhance the growth and smell of flowers. Atami Bloombastic is more powerful in creating denser, sweeter crops full of essential oils and is made from organic sea kelp and clay. It is 50% more dense with potassium and phosphorous than any other accelerator or stimulator of bud growth on the market today, which does not contain any sodium or chlorine.




Benefits of Atami Bloombastic:




Optimal levels of bio-nutrients combined with bio-stimulant activators to provide a balanced feed process for overall plant and crop health

Ideal PK ratio of 0-20-21 powerful fruit set and ripening with sweet smelling large flowers and buds

Does not matter what base nutrient is used, the power of Atami Bloombastic will increase yield and quality of crops and can be used in conjunction with any other product such as Advanced Nutrients such as Canna Coco A&B and Sensi Bloom.

Atami Bloombastic stimulates and improves over 5-7 days the strength of your nutritional medium

Scientifically proven and designed to flowering and ripening of plants and crops

Adds sweet flavor and extreme weight to crop yields




Ata

mi Bloombastic is designed to stimulate plant enzymes to protect against environmental stressors such as light, diseases and nutrient inadequacies. Atami Bloombastic can be used in any medium such as coco-coir, hydroponics and mosses or soil. It can be used with base nutrients such as Advanced Nutrients Big Bud and Overdrive.




Dosage instructions: 0.5ml - 1ml per litre of water and use throughout the entire bloom period from the 2nd to the 6th week.
If you are on the hunt for larger, sweeter crop yields full of essential oils and super flowering and ripening ability, then get the powerful medium enhancer Atami Bloombastic.
Atami Bloombastic