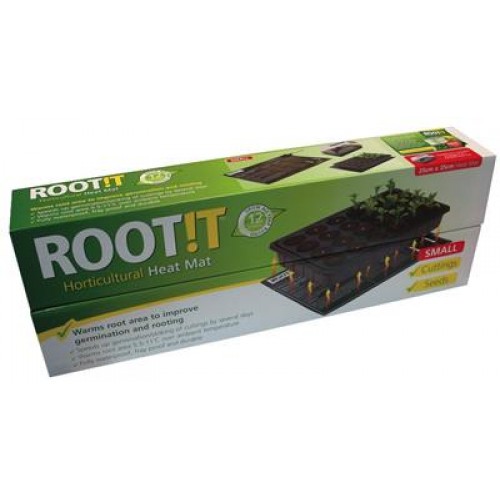 ROOTIT Electric Heat Mat
The Root!t Heat mat is used to maintain consistent temperatures inside your propagator at all times, giving seedlings and cuttings the best possible start during their most critical period.
The Root!t Electric Heat Mat sits underneath your propagator, radiating heat in order to maintain temperatures within the required ranges for rapid plant growth and root development. By optimizing the climate inside your propagator, you can then expect to see improved cutting success, vibrant root development and all-round faster vegging times.

Helps to maintain temps within optimal ranges
Triggers accelerated plant growth and root development
Perfect for use with the Root!t Electric Thermostat
Improves cutting success rates
Accommodates a range of propagator sizes
Fully sealed, waterproof design
Very easy to use
Comes in three sizes: Small, Medium and Large
Dimensions:
Root!t Heat Mat Small - 25cm x 35cm
Root!t Heat Mat Medium - 60cm x 40cm
Recommended propagator size:

Root!t Heat Mat Small - 1 x Medium sized propagator
Root!t Heat Mat Medium - 2 x Medium sized propagator or 1 x Large sized propagator
ROOTIT Electric Heat Mat