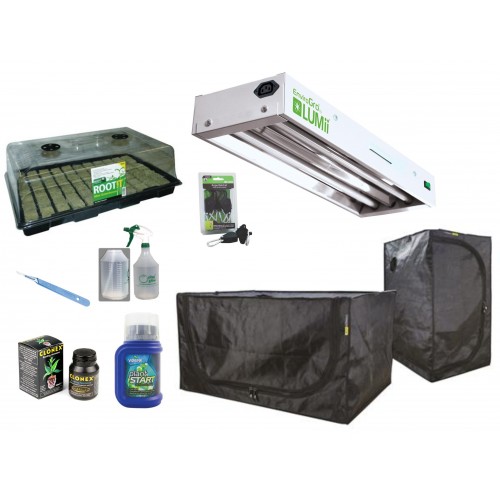 Cuttings And Seeds Propagation Tent Kit


Begin up to 77 seeds or cuttings with our top of the line propagation kit. This kit warrants precise conditions that are required for plants to flourish. Included are signature products that can be utilized for private or commercial growth projects.
The cuttings and seeds propagation tent kit includes quality products that exceed the expectations of growers around the world. It is made with durable quality and features the following convenience features.


All components are easy to use and equipment is user-friendly

Cloning tent has dual provisions as it functions as propagation tent

Quality products that deliver satisfactory results

User-friendly components inside each kit



Cuttings and Seeds Propagation Tent Kit includes the following:


1 x Lighthouse Cloning Tent (Doubles as a mother plant tent)

1 x Lumii Envirogro 2ft Light with Hangers

1 x Grodan 77 Rockwool Tray

1 x Clonex Rooting Gel 50ml

1 x Vitalink Plant Start 250ml


Performance of the Cuttings and Seeds Propagation Tent Kit
The Cuttings and Seeds Propagation Tent performs as a safe and nourishing environment for the growth of healthy and vibrant plants. The conditions are ideal for them to gain exposure to the necessary elements that promote plant conditioning and growth.


The kit contains the following items:


Lighthouse Clone Tent (0.7 x 0.5 x 0.9m)
Lighthouse Clone Tent provides options for growers that aren't always available with similar products. The tent can be utilized as a propagation tent or as a small grow tent for the mother plant. Available extraction and its Tri Layer 201 Denier material- Clone 1 (passive air vented filter) includes a fundamental waterproof tray that add additional benefits to the component.
Featuring LightHouse UltraLux reflective liner, the superior quality dual lined zips, Tivax provides excellent light proofing without snagging. The main frame is constructed with sturdy 16mm steel shafts with nylon edges.
The Lighthouse Lite Clone 1 Tent is the appropriate size to be utilized with CFL, T5 or LED lighting systems.


Rootit Large Propagator
The Rootit Propagator assists with the creation and development of the flawless environment that is essential to the delicate initial phases of plant life. Propagators are essential tools utilized in the stabilization of temperatures and elevated levels of humidity.
There is a little difference in the lid of this propagator when compared with others. It sits a little higher than most others on the market. This slight difference permits growers to root out taller cuttings, or allow the seedlings to remain inside a bit longer than they usually remain. This can be done without concern that they will become too large before transferring them. The lid is equipped with dual air vents. The base fits 1 x (SBS 77, SBS 150) or 2 x (SBS 24). Channels exist throughout to prevent young plants and seedlings from settling in water.


Lumii Envirogro T5 Propagation Light
This selection of slimline light units are ideal for propagation and growing seedlings or cuttings. They emit minimal light, which makes it possible to place them fairly close to your plants to avoid stretching. It is also possible to utilize them for extra lighting in a space. This is achieved by hanging the units in a vertical position next to the plants.
The unit has a switch to power it on and off. There is also a cable equipped with an IEC connection and plug that is positioned neatly as a power supply. Light is dispersed through the reflector for proper plant lighting. Fluorescent tubes are easily removed and replaced by twisting them slightly. Units also include hanging loops and fluorescent blue/cool tubes to support vegetative growth.


77 Tray Rockwool Propagation Cubes
Grodan SBS Rockwool Cubes are perfect for hydroponics and ideal for soil propagation. They offer rapid and reliable rooting from cutting or seed. SBS cubes are available in a tray. This simplifies the propagation process for the grower of a large bulk of plants. The establishment of a quality root system in SBS cubes permits transplantation into three-inch or four-inch blocks to proceed with a flowering or vegetative phase in soil, coco or a hydroponic system.


Clonex Rooting Hormone Gel
Clonex Rooting Hormone Gel is utilized across the world in private and commercial gardens. Clonex is a superior quality product that has been used all over since 1989. The high-quality gel places a strong and reliable seal around the stem of the plant. It works to provide essential hormones that are needed for prime root development. The gel also provides some of the necessary nutrients that protect the growth of new tissue.
Clonex Rooting Gel can be used on a variety of cuttings such as herbs, fruit, vegetables, flowering plants, woody plants, and many more. It serves as a great source of hormones, nutrients and vitamins that plants require.


How to Use Clonex Rooting Gel:
Dip cutting to applicable depth and insert rotting medium

Mist cuttings prior to putting them in a sterile but humid environment

New growth should appear within one or two weeks

Harden off flowers or plants as new roots are stimulated

Move slightly if a come covering is used. This allows a little air to enter.

Continue to reposition daily until covering is removed completely


Vitalink Plant Start 250ml
Vitalink Plant Start is designed to greatly improve the root development of cuttings and seedlings throughout the initial stages of growth. It consists of the vigorous macro and micro nutrients that are necessary in the initial developmental stages. This feed consists of a specialized proportion of boron and calcium mixed with B1 vitamins and hamates to expedite growth and motivate more rapid and healthier rooting times.
The use of Vitalink Plant Start presents a foundation for healthy development during the initial stages and also aides in the prevention of infection and disease in upcoming stages of the life cycle of plants. Stress is reduced because of the B1 vitamin. The vitamin also helps to gain the nutrition necessary to help them resist common diseases that occur in plants. This permits them to have a healthy start at life as cuttings and seedlings.
Cuttings And Seeds Propagation Tent Kit