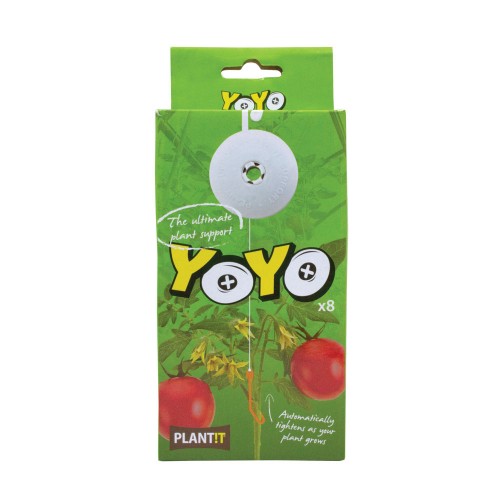 Plantit YOYO plant support Device are a very simple to use plant support system that automatically adjusts as your plant grows. Each YOYO support hook is basically a plastic hook on a length of 1.75m fishing line that is rolled under slight tension which is strong enough to support plants and prevent them bowing or falling over. The YOYO unit itself has a second hook to anchor it in place.

YOYOs are very basic and easy to use. Each YOYO unit needs to be hooked onto something, there is a lot of equipment around the common grow room you can latch these things onto or one of the best ways to use YOYOs is to run lengths of string around the roof and walls of your grow room and then attatch the YOYOs.

If the height of your plants is an issue you can use YOYO plant support hooks to pull problem branches from side to side also and keep your prize produce out of the heat spot of your light.

Sold In Packs of 8.
Plantit YOYO Plant Support Device 8pk