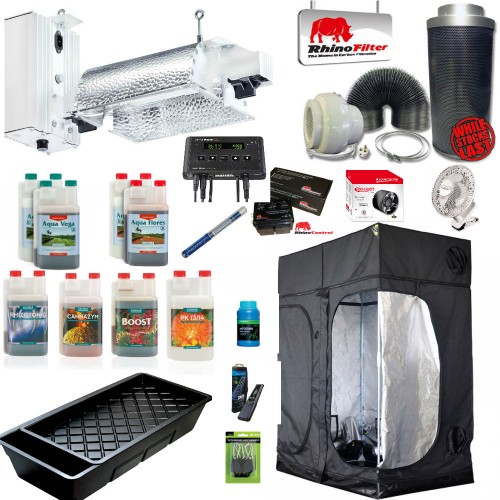 NFT Gavita 110 Grow Tent Kit
The NFT Gavita 110 Grow Tent kit is perfect for introduction to Hydroponic growing. Its small manageable and gives great results suitable for 6 - 12 plants with a mammoth gavita elite 1.1m x 1.8m x 2.4m grow tent included. The kits comes complete with everything needed to enter the world of hydroponics including a Gavita 1000w e-series grow light, gavita master controller 5 inch rhino pro extraction kit, heavy duty timer, bluelab truncheon, ph meter, light hangers, canna nutrients and additives plus loads more.


2 x NFT GT 424 Complete Kit
The Gro Tank 424 NFT Kit is the smallest system in the GT range and is suitable for 3 to 6 plants heavy yielding plants that uses no growing medium instead the roots are spread over the top tray where a nutrient rich solution constantly waters the plant allowing oxygen and nutrients to be absorbs rapidly. The GT 424 is an all in one hydroponic system that comes complete with:



Silver corriboard top-plate

MC320 water pump and fittings



Dimensions 101cm x 48.5cm x 20.5cm


Mammoth Gavita Elite 1.1m x 1.8m x 2.4m Grow Tent
The Mammoth Gavita Elite Grow Tent was specifically designed to work perfectly with the Gavita e-series grow lights. Combining this tent and reflector will result in optimal uniformity and optimal yield. Unlike Traditional grow tents being 2 metres high these tents are 2.4 metres high giving extra height for your plant to benefits from the amazing light from gavita e-series lighting.


The footprint of a HPS lamp is not square and so you will never achieve optimal light uniformity with a single fixture in a square grow tent.


For this reason Gavita and Mammoth have ensured their 4 new tents are not square, they are the perfect dimensions for use with the new M110 reflectors from Gavita. G1 versions suitable for 1 1000w light or G2 versions suitable for 2 1000w lights.


100% water proof floor - Can be used as a water tray

Heavy duty frame - 22mm steel poles

Made from highly reflective Mylar

extra 40cm height than traditional grow tents


Gavita 1000 watt Pro Line E-Series
The best just got better! The new Gavita Pro line e-series Grow Light are improved models and are suitable for central control with the Gavita Master lighting controllers. Now you can have complete lighting control at your fingertips.
Gavita Pro line HPS fixtures are the professional standard for efficient climate room lighting. Running on standard 240 V they power the high voltage horticultural electronic lamps, which are superior in spectrum, light output and light maintenance over time.


Completely sealed housing with GORE-TEX ® ventilation plug, no moving parts, completely silent and cool to the touch

Suitable for high frequency 400V electronic horticultural lamps with 10-25% more output than traditional HPS lamps

High light maintenance: >95% per year so you only need to change your lamp once per year

Replaceable 96% efficient Gavita HR96 reflector for optimal efficiency (HRW wide reflector as an option as from Q3 2014)

Controllable output: dim or boost your light to adjust it to changing circumstances or grow phases

Soft dim which gradually changes the output when switched, eliminating stress on the lamp

Equipped with very high frequency Gavita electronics (>100 kHz)

No electromagnetic interference problems through the integrated design



Gavita Pro line E-Series 1000 watt
The choice for professionals

Highest output and efficiency on the market with 400V EL lamp (A++ Energy label)

Suitable for Gavita Master Controller

Lights more than 2 square metres



Gavita Master Controller EL1
The Gavita Master controllers (in combination with suitable Gavita e-series fixtures) offer a solution for all these issues, even with a cost reduction when you look at larger climate rooms. The E-series ballasts no longer require a switchboard to be switched on and off, and no longer need their own switch to dim or boost them. Now you can just touch a few buttons on your controller to be in complete control of all your connected ballasts at once. Our Master controllers do this, and much more!
Dimmable electronic ballasts have been around for many years now. They offer flexibility when you need lower light intensities, for example during the vegetative phase or when climate conditions are so extreme that a healthy climate is hard to maintain. Moreover they can be boosted to optimise lamp performance and efficancy. Unfortunately it is not always easy to adjust multiple ballasts, or be there at the right moment when you need to dim your lights. Another problem is the high current that ballasts require when switched on at the same time (the inrush current). You need elaborate contactor equipped switchboxes to switch your ballasts on and off.


Functionality overview - Easy installation
Installing the Master Controller is a breeze: it's a matter of plugging in, setting the dials of the ballasts to EXT (External control) and looping the low voltage control cord from the controller to your ballasts - all plug and play. Easy, safe and flexible.


Clear interface
The five language interface is intuitive to use with just 5 buttons. In plain text you see all settings, warnings and statuses. For an easy overview we have added LEDs for each output channel, which indicate whether the lights are on, dimming or shut down due to a dangerous high temperature. The indication LEDs are supported by a full text warning on the high quality green OLED display.


Replaces timers and contactors
You can plug your ballasts directly into mains outlets. You do not need any timers or contactor boxes any more: the ballasts are in stand-by mode and wake up when they get the signal from the controller. This means that you don't have any inrush any more when you switch on your ballasts. Just set the on/off time on the controller and you are good to go.


Flexible switching
The EL2 controller offers you a main and an auxiliary channel which follow each other or work alternating. The latter is specifically for when you want to optimise your power utilization in the generative phase, running 2 rooms with the light alternating every 12 hours in two climate rooms. Easy and flexible.


Dimming and boosting
Once you have connected your ballasts to the controller and set the on/off time you can set the output power centrally by the push of a few buttons. You can choose to have the output power displayed as a percentage or in actual output wattage of your ballasts. We even offer you a sunrise/ sunset time setting in which the lamps ramp up or down at the start and end of the cycle.


Auto dim and safety shutdown based on room temperature
The Master controller is equipped with temperature sensors. Though we do not intend for you to use the Master controller as a climate controller, it can help you save your crop when temperatures in your room rise beyond your climate control capabilities. At a set temperature (normally a few degrees above your set ideal climate temperature) the Master controller will automatically dim your lamps, to prevent crop damage. In case of a complete ventilation failure or other calamity, when temperatures rise even more, the Master controller shuts down all connected equipment and activates the alarm contact.


Switching auxiliary equipment
The Master controller has two outputs for optional External Contactor Modules (ECMs). These industry grade contactor units can switch a load up to 15 amps of accessories during either lights on or lights off period. Using the ECMs you can switch, for example, your humidifier, heating, CO2 equipment and watering systems. As the ECMs are steered by a low voltage signal you can even locate them close to the accessories themselves, enabling easy installation and optimal flexibility.


6 Inch Rhino Pro Extraction Kit
The Rhino Pro Extraction Kit is a step up from the Hobby Extraction Kit and the difference would be that it covers a larger room area. In addition, the Rhino Pro filters have extra carbon to ensure a better filtration effect.


6

Inch Systemair RVK Sileo Fan


Super silent and has the capacity to move great volumes of air in greenhouses and grow rooms

The external rotor motors and backward curved blades mean a great look and a safe construction

No matter the shape of your greenhouse or grow room you can attach this Systemair RVK fan horizontally or vertically on a wall or ceiling

The fibreglass reinforced plastic casing means you have a sturdy and strong envelope for this fan

If you are worried about the temperature your plants will be growing at, attach a

fan speed controller

to your Systemair RVK fan and be confident from word go

The carbon filters are built to relieve terrible scents in the air, dispel them and ensure the good air is brought in






Rhino Pro Carbon Filters
Australian-mined RC412 carbon is what makes up the Rhino Pro Carbon Filter and is seen as the best in the world. In the base of the vortex cone, you will find a good density of carbon, but this filter is lightweight and smaller to handle, no matter whether you are a novice or expert grower.



The Rhino Pro filters have a lifespan of 9 to 18 months and if you want to prolong their life to close to 2 years, purchase replacement carbon sleeves as well.



Ducting and Clamps
The Rhino Pro Kits come standard with ducting and 2 authentic Rhino clamps, so you don't have to worry about receiving inferior accessories.


Whats Included
6 Inch systemair RVK Sileo Fan

13amp 3 Pin Plug with 5m Cable

6 Inch Rhino Pro Carbon Filter

5 Metre 6 Inch Rhino Aluminium Ducting

2 x 6 Inch Rhino Ducting Clips


Rhino RC-1 Fan Speed Controller
It has been said "Let Rhino do the work" and the Rhino Fan Speed Controller has proven time and time again to hold true to that statement. The Rhino RC-1 has a thermostat to take all the exhausting work of trying to control the intake and exhaust extraction within your grow room. This powerful two fan air exchange unit provides the ultimate temperature by running at full speeds in a grow room until it reaches the temperature threshold. It will alternately trigger the fan per the temperature and moisture in the grow room to either turn on or off accordingly. The proper balance of ventilation is provided to the grow room with no air leaks.


Benefits:
Easy controls to set desired temperatures and will turn on and off automatically if desired temperature is exceeded

Easy to set fan speeds for both air intake and air extraction

Controls negative air pressure in grow rooms by balancing between fan idles and fan running

Manufactured by the leading manufacturer of carbon filtration systems

Comes with a hard wired temperature probe which helps regulate and trigger fan speeds and grow room temps



If

you want to take all the exhausting work out of regulating your grow rooms temperature and air intake and extraction methods, using Rhino Fan Speed Controller will take care of all the work for you. Simple to follow directions and easy to use dials helps you set desired temperatures and fans speeds to give you the best growing room environment with no air leaks. The Rhino Fan Speed Controller alternately turns on and off and from run to idle motor speeds when the temperature either exceeds the desired temp or falls below. Easy to setup and comes with an air temperature hard wired probe for constant monitoring of grow room temperatures.


Bluelab EC Truncheon
The Bluelab EC Truncheon is designed to quickly and efficiently identify the conductivity of your nutrient solution in order to grow high quality, healthy plants. It is imperative to regularly measure the level of soluble salts in your nutrient mix to avoid over feeding or root burn and the Bluelab EC Truncheon allows you to do just that with minimal effort and no calibration. Finding out the strength of your nutrient solution means that there is no need to estimate how to feed your plants which will in turn save you time and money.


Benefits:
LED display visible in daylight

Simplistic design with no buttons or switches

Energy saving automatic on/off feature

Provides readings in CF, EC, ppm 500 and ppm 700


To use the Bluelab EC Truncheon, place the end of the probe into your nutrient solution and wait for a prompt reading as indicated by the LED flashing lights. The Bluelab EC Truncheon is available with either French (Canadian) or English instructions and labelling for your convenience and is 40.7cm (16 1/32 inches) in length.


Essentials PH Meter
The Essentials PH Meter is an effective method of accurately measuring the PH level of your nutrient solution. To ensure the healthy and optimum growth of your plants it is important to regularly monitor the PH of your nutrient solution as there is only a minimum range between a PH of 5.5 and 6.5 in which particular nutrients can be properly absorbed. Using the Essentials PH Meter allows you to check the PH levels easily and efficiently to avoid a solution which is out of optimum PH range which can cause eventual plant sickness. The essentials PH Meter is made from durable waterproof resistant materials and will float if accidentally dropped for easy retrieval to avoid injury.


Benefits:
Digital display for accurate readings

Energy saving automatic switch off

Excellent value for money





To get the most accurate and reliable readings from your Essentials PH Meter you should use the calibration solution provided to calibrate and prepare the meter before first use and then again weekly for best results. To use the meter simply switch it on and immerse the probe in the nutrient solution for a few seconds until the meter beeps before removing it to read the display.


2 x The LUMii Rope Ratchet
The LUMii Rope Ratchets adjust the height of your reflector to get the most light to your plants as they grow. They pull tight, lock into place and they are really durable. They are tough and are heat and cold resistant.
Each LUMii Rope Ratchet has two quick release carabiner clips at each end for ease of use and 2.4 metres of tough braided polypropylene rope.
WHAT'S INCLUDED


2 X NFT Gro-Tank 424 Complete
1 x Mammoth Gavita Elite 1.1m x 1.8m x 2.4m
1 x 1000w Gavita E-Series Light Kit
1 x Gavita Master Controller EL1
1 x RVK150A1 Fan (6")
1 x Rhino Pro 150mm x 300mm Filter (6")
5 metre 150mm Aluminium Ducting (6")
1 x Fast Clamp 150mm (6")
2 x 150mm Ducting Clamp (6")
1 x 13 amp Plug & 4m Cable
1 x Rhino Fan Speed Controller RC-1
1 x Advanced Star 5" Intake Fan
3 metre 125mm Aluminium Ducting (5")
2 x Rope Rachet Hangers (Pair)
1 x 6" Clip on Fan
1 x Bluelab Truncheon
1 x Essentials PH Meter
1 x Canna Aqua Vega 1 Litre A&B
1 x Canna Aqua Flores 1 Litre A&B
1 x Canna Rhizotonic 250ml
1 x Canna Cannazym 250ml
1 x Canna PK 13/14 250ml
1 x Canna Boost Accelerator 1 Litre
1 x 3ml Pipette
2 x 25ml Syringe
2 x 50ml Syringe
2 x 100ml Measuring Cup
NFT Gavita 110 Grow Tent Kit