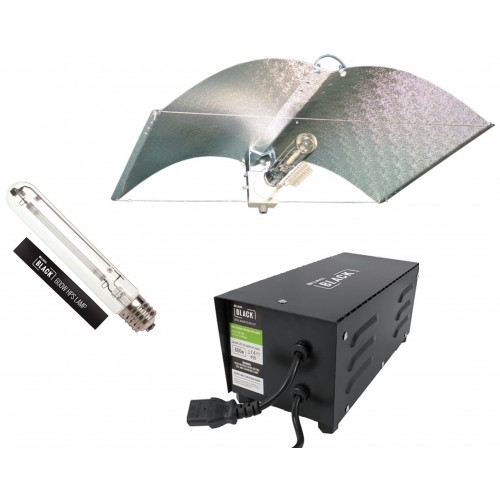 Lumii Black 600w Adjust-a-wing Enforcer Light Kit


The Lumii Black 600 watt Adjust-A-Wings Grow Light Kits are high quality, glass coated reflectors that direct excess light away from the growth area and allow the right amount of light to pass from lamp to plants whilst reducing heat and saving energy. With a reflective aluminium surface these flexible reflectors allow you to reposition and focus where you want to direct light to your plants to achieve maximum growth and high standard plants.


The Grow Lamp
The LUMii BLACK Lamp is a 600w Dual spectrum Lamp with an E40 fitting.

Offering raised blues, this bulb is perfect for stimulating enhanced flowering.

The LUMii BLACK Lamp offers 20,000 life hours and 88,000 Lumens.

For best results.
The Ballast
The LUMii BLACK Metal Magnetic Ballast is supplied with a flying IEC lead which enables you to add any reflector fitted with a universal IEC socket. It's simple to start growing, just add a reflector and a lamp with the same wattage as the ballast. T

he well vented metal-case ensures the ballast runs cool and quiet and features wall-hanging brackets making them fully wall-mountable, thus making more space in your grow room.

The LUMii BLACK Metal-Cased Magnetic ballast can be used with any 600w HID lamp – however we recommend using a LUMii BLACK 600w Dual spectrum lamp to get the best results.



The Adjust-A-Wing Enforcer Reflector


The Enforcer is a low cost and durable reflector wing with an 86% reflective aluminium surface that can increase your crop by 50% and overall growing area by 75%. The design allows heat and air to flow freely meaning you can position the reflector in close proximity to plants without the risk of burning or overheating. The Enforcer is a lower cost product suitable for growers who are testing out reflectors with their crop without the commitment of buying a more expensive product such as the Avenger.


Benefits:



Energy saving and value for money

Increases crop growth area by 75%

Adjustable to suit your needs


86% reflective aluminium surface





Lumii Black 600w Adjust-A-Wing Enforcer Light Kit