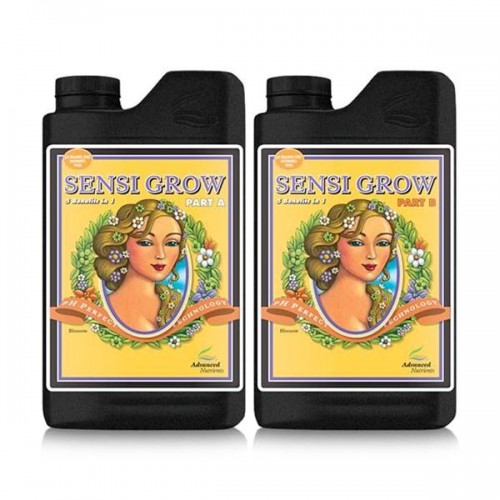 Advanced Nutrients Sensi Grow A&B


Advanced Nutrients Sensi Grow A&B is a two part system designed to take out the need for checking and adding PH balancing chemicals. Advanced Nutrients Sensi Grow A&B has a consistent 24 hour a day seven days a week nutrient rich system of balancing the PH in hydroponic growing of plants that will give increased uptake of nutrients to plants and create rapid growth of foliage and crops and promote overall structural strength and growth.
Advanced Nutrients Sensi Grow A&B has been scientifically formulated to be considered the only "PH perfect" product on the market today. It brings many different compounds to help you get the heartiest and most healthy plants during hydroponic gardening all in one simply bottle.


Features:



Non-Ionic Surfactant- Wet Betty- Has been scientifically researched and developed to help reduce friction in liquids to help plants be able to feed properly.

Humates- Grandma Enggy's H-2- Humates from Leonardite is the most mineral rich element on Earth and will increase seed germination and root strength and growth along with increasing the power of chelation.

Fulvates- Grandma Enggy's F-1- Fulvates help nutrient uptake and work along-side the non-ionic surfactants so your plants can feed naturally without residence.

L- Form Amino Acids- L-form amino acids are easier for plants to take in and will create the largest and most robust crops.

Sensi Grow Contains all of the 16 elemental needs of plants and is more than just a PH balancer. It contains Nitrogen, Potassium and Phosphorous and will restructure the molecular compounds of your medium.




Do

sage information: Each part of the two part system needs to be added per growth week at 4ml per 1 Liter of medium.




The combination of nutrients, surfactants, fulvates, humates and amino acids present in Advanced Nutrients Sensi-Grow will give all the plants in your hydroponic garden stronger roots, less resistant nutrient uptakes and more robust plants producing crops that are heartier, more potent and tastier.
Advanced Nutrients Sensi Grow A&B