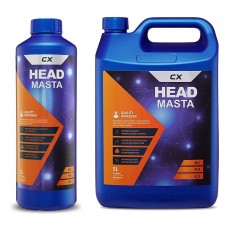 Canadian Xpress Head Masta
Canadian Xpress Head Masta provides a whole host of ingredients to optimise the flowering process, leading to bigger yields of higher quality. Fusion nutrition means that organic flowering agents are fused with synthetic nutrients to complement each other perfectly. Head Masta simulates a plants hormonal flowering signal which increases flower formation and additional bud-sites. Secondly, Head Masta provides vitamins and minerals to ensure your plants have enough of these essential nutrients. Thirdly, silicon is included which creates stronger cell walls, increases weight in the final product and makes the plant hungrier for potassium. Lastly, Head Masta helps plants to regulate water uptake correctly. Plants that are provided with a lots of nutrient can sometimes take up too much or too little water, leading to reduced flowering. Head Masta helps the plant to keep the right amount of water within it to ensure flowering is optimised.


Using Canadian Xpress Head Masta
Use Canadian Xpress Head Masta from the second week of flowering through to the flush. Always shake the bottle well before use. Make up your nutrient solution as usual and add Canadian Xpress Head Masta at a rate of 1ml/litre. Adjust pH as necessary.
As with all nutrients, boosters and additives, never mix them together in their concentrated form (i.e. straight from the bottle). Always add each nutrient, booster or additive to your reservoir water or feed water in turn, giving the solution a good stir to mix it in before adding the next one.
Canadian Xpress Head Masta