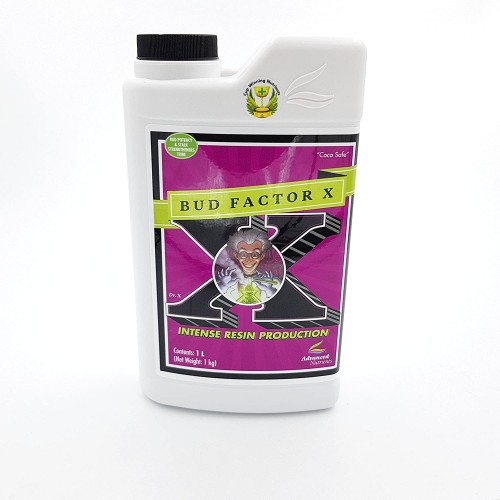 Advanced Nutrients Bud Factor X uses immune system stimulators to trigger a 'fight or flight' style response in plants without having to induce actual harm. One of the major effects of this 'fight or flight' response is a greatly increased level of essential oil production, which in turn delivers much bigger harvests.

Designed by a team of top scientists dedicated to making products of excellence

Manufactured to the highest possible standards

A highly potent immune response stimulator

Dramatically boosts yield, potency and overall plant health

Effective in any medium - hydro, coco, soil and aeroponics

Triggers a 'fight or flight' response in plants

Perfect for use with the range of Advanced Nutrients additives and boosters

Can be applied as a foliar spray

Strengthens plants against stress, pests and diseases

Also works as a highly effective root treatment

Advanced Nutrients Bud Factor X can be used from the first week of the bloom stage. Stop adding Bud Factor X two weeks before harvest. Make up your nutrient solution as usual and administer Bud Factor X at a rate of 2ml per litre of nutrient solution. Bud Factor X can also be applied as a foliar spray, though we recommend that this is undertaken before the forming of flowers to prevent issues with excess humidity and fungal infections. Because Bud Factor X contains added magnesium, adjust any other magnesium supplements in your feeding regimen accordingly.
Advanced Nutrients Bud factor X 1 Litre