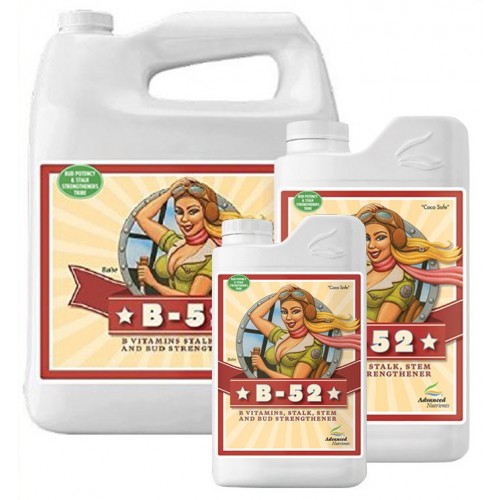 Advanced Nutrients B-52
Advanced Nutrients B-52 fertiliser booster essentially increases the appetite of your plants - giving them a super boost of energy which, in turn, increases nutrient uptake.


To get the most out of premium quality fertilisers you need to raise your plants metabolic rate. After all, you don't get any benefit from top quality food when its stored in the larder. You have to eat it


Truly staggering increases in growth and yield are achieved totally through naturally occurring hormones and vitamins - but your plants can't get this sort of boost from anywhere else. Use with soil or hydroponics, ideally throughout the plant life cycle.


Advanced Nutrients - B-52 provides a boost of vitamins and lots more for vitality, health and amazing yields.
Designed by a team of top scientists dedicated to making products of excellence

Manufactured to the highest possible standards by Advanced Nutrients

Provides essential Vitamins for lush, healthy growth and profuse flowering

Strengthens plant's disease immunity and general health

Contains folic acid for a healthy plant metabolism

Perfect for use with the range of Advanced Nutrients additives and boosters
Advanced Nutrients B-52