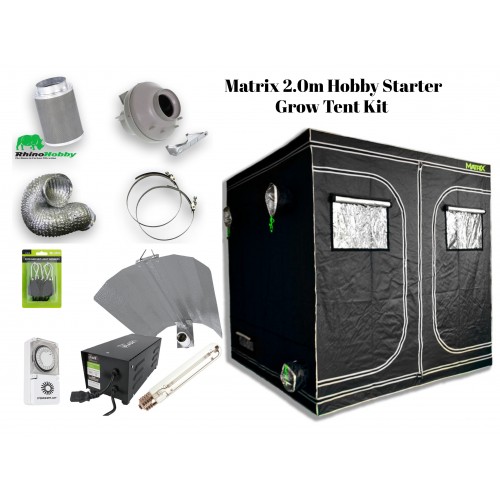 Matrix 2.0m Hobby Grow Tent Kit
What's Included


1 x Matrix 2.0m x 2.0m x 2.0m Grow Tent
4 x 600w Lumii Black Magnetic Grow Light Kit / 600w Lumii Black Digital Grow Light Kit
1 xPowerplant Heavy Duty Timer
1 x 4 Way Powerstar Contactor/Relay
5 x Rope Rachet Hangers (Pair)
1 x 8" 200mm Sileo RVK200A1 Extractor Fan
1 x Rhino Hobby 200mm x 400mm Filter (8")
5m 200mm Aluminium Ducting (8")
3 x 200mm Ducting Clamp (8")


Matrix 2.0 X 2.0 X 2.0m Grow Tent
Matrix is a high quality entry level grow tent providing a great home for your plants to thrive.



Electrical access double sock (4″)

Intake and outtake (8″ / 10″) ventilation double socks

"Hook and loop" inspection window

16mm powder coated steel poles

Ribbed plastic corner connectors

600d x 300d Mylar lined fabric (silver)

Support poles 30kg capacity


8" Rhino Hobby RVK Extraction Kit


Systemair Sileo RVK Extractor Fan
The Systemair RVK Sileo Fan series is an in-duct fan system for the removal of stale air and input of clean air into any grow room for proper air circulation. The Systemair RVK Fan series is a great addition to any grower's kit of air quality supplies. The fans are made of top quality plastics and durable fibreglass and each have an external port for ease of use. The port can be plugged into air sockets, filters and duct work or any other accessory. The kit contains one Systemair RVK Sileo fan and an easy to mount bracket which can be turned on and adjust fan rotation speed by either the fan housing unit or by a fan speed controller.
The Systemair RVK Fan is relatively quiet and can be mounted in either a duct with a duct clip or directly to a carbon filter. By following the arrow on the main housing of the fan will tell you which direction the air flow will be directed and should be mounted accordingly. You need to attach the ducting to both the inlet and outlet sides of the fan to insure proper ventilation and air circulation.



Benefits of the Systemair RVK Fans



Extremely durable with minimum repairs and super reliable

Made of high quality plastics and fibreglass

Systemair is the best known manufacturer of in-line duct fans

Provides proper air circulation

Ideal for any size grow room




When you are in need of quality fans that are durable and quiet, the Systemair RVK Fan series will give you ultimate power.

The Carbon Filter
The Rhino Hobby filters are mimicked on the Rhino Pro range, so you know you are getting a quality carbon air filter. The carbon is what attracts and absorbs the bad air and pollutants, so is a very important part of the filter system. The only difference between the Hobby filter and the Pro filter is that there is a lesser density of carbon in the Hobby, 30mm precisely. But this is easier for a novice grower to handle and manage.

The reversible neck, one of its kinds on the market, will help extend the life of the carbon and ensure it reaches its 12 month lifespan, if not longer.

Ducting and Clamps

All the Rhino Hobby Kits come with Rhino ducting and 2 Rhino clamps. All additions are genuine Rhino accessories.



Included in the Rhino Hobby RVK Extraction Kit:



8 inch Sileo RVK200A1 Extractor Fan

8 inch Rhino Hobby Carbon Filter

5 Metres of 8 inch Rhino Aluminium Ducting

3 x 8 inch Rhino Ducting Clips


Lumii Black 600w Grow Light Kit


A Great value for money grow light kit with a 2 year warranty, one of the UK'S biggest value brands so rest assured quality and customer service will be on your side.Includes lamp, ballast and reflector, suitable for start to finish.



The Relector
The LUMii BLACK Reflector is a Dutch Barn-Style, Euro Reflector. Included with a lamp holder, V hooks for hanging and a 4m cord set. The LUMii BLACK Euro Reflector is quite simply a great budget reflector at a great price!

Dimensions:Height: 160mm | Width: 350mm | Length: 520mm



The Grow Lamp
The LUMii BLACK Lamp is a 600w Dual spectrum Lamp with an E40 fitting. Offering raised blues, this bulb is perfect for stimulating enhanced flowering.The LUMii BLACK Lamp offers 20,000 life hours and 88,000 Lumens.For best results.


Lumii Black 600w Magnetic Ballast
The LUMii BLACK Metal Magnetic Ballast is supplied with a flying IEC lead which enables you to add any reflector fitted with a universal IEC socket. It's simple to start growing, just add a reflector and a lamp with the same wattage as the ballast. The well vented metal-case ensures the ballast runs cool and quiet and features wall-hanging brackets making them fully wall-mountable, thus making more space in your grow room. The LUMii BLACK Metal-Cased Magnetic ballast can be used with any 600w HID lamp – however we recommend using a LUMii BLACK 600w Dual spectrum lamp to get the best results.


Lumii Black 600w Dimmable Ballast
LUMii BLACK 600w Electronic Ballast's are supplied as a stand-alone ballast with a flying IEC lead, which means you can add any reflector fitted with an IEC socket to start growing – it's that simple!The ballast features dim and boost functions, giving you the ability to control the light output from your lamp to your plants.
There are two dimmable options (250w & 400w) and a 'super-lumens' boost option (600w+Boost) which is on average a 10% increase in output. For best results we recommend using a LUMii BLACK Lamp.


Powerplant Heavy Duty Timer

The PowerPlant Heavy Duty Timer is different. It is designed to take high loads and has no problem dealing with the inductive loads produced by a 600w ballast. This means no separate contactor/relay is required and saves you money. It has a 96 switching operations within a 24 hour period (every 15 minues).
This timer is suitable for timing one 600w HID ballast. It has a robust case design with socket and timer dust/moisture covers. Normal household timers are not built to take the high inductive loads produced by HID ballasts. If used with an HID ballast - the contacts inside the timer that open and close the timed circuit will overheat and weld together - breaking the timer and leaving your grow lights permanently on.


The LUMii Rope Ratchet

The LUMii Rope Ratchets adjust the height of your reflector to get the most light to
your plants as they grow. They pull tight, lock into place and they are really durable. They are tough and are heat and cold resistant.
Each LUMii Rope Ratchet has two quick release carabiner clips at each end for ease of use and 2.4 metres of tough braided polypropylene rope.
Matrix 2.0m Hobby Grow Tent Kit