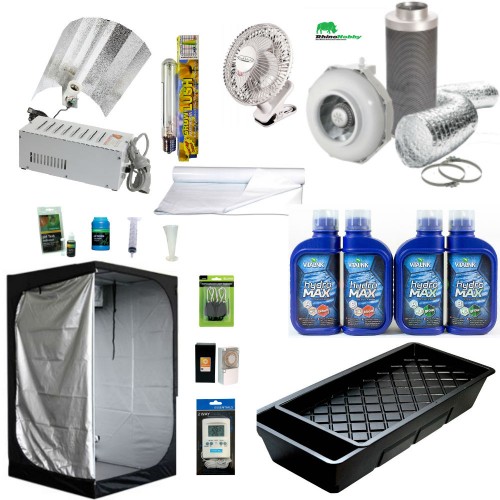 NFT 120cm Starter Grow Tent Kit
The NFT 120cm starter Grow Tent kit is perfect for introduction to Hydroponic growing. Its small manageable and gives great results suitable for 3 - 6 plants with a mammoth 1.2m x 1.2m x 2.0 grow tent included. The kits comes complete with everything needed to enter the world of hydroponics including a 600 watt dual spectrum grow light, 5 Inch Rhino Hobby Extraction Kit, heavy duty timer, light hangers, vitalink hydro max nutrients both grow and bloom plus loads more.


NFT GT 424 Complete Kit
The Gro Tank 424 NFT Kit is the smallest system in the GT range and is suitable for 3 to 6 plants heavy yielding plants that uses no growing medium instead the roots are spread over the top tray where a nutrient rich solution constantly waters the plant allowing oxygen and nutrients to be absorbs rapidly. The GT 424 is an all in one hydroponic system that comes complete with:



Silver corriboard top-plate

MC320 water pump and fittings



Dimensions 101cm x 48.5cm x 20.5cm


Mammoth Lite 1.2m x 1.2m x 2.0m Grow Tent
Designed with strict specifications and extreme quality, Mammoth Lite Grow Tents provide superior durability. They are extremely affordable and easy to assemble so that even a novice gardener can easily assemble this product. As well, they won't have to spend a lot of money on complicated tents when they are just starting out and are looking for the best method to contain their garden. Both professional and private growers worldwide have high acclaim for this easy to assemble and outstanding grow tent.


The Mammoth Lite Tent is ideal for smaller gardens, especially during the vegetative stage. It is also ideal for drying your crop after harvest.



Features:



Designed with highly reflective Mylar to ensure up to 955 light reflection ratings

Strong steel frame designed with 16mm tubes

Free of PVC so you plants will not be harmed

600D polyester inside coating

Removable filter for spills (also waterproof)

Fully adjustable exhaust and intake vents

Made with high quality thick Mylar cloth

Outlet/inlet vents for fan/exhaust systems.

Machine washable materials

Perfect drying environment during harvest

Does not require much storage when disassembled



5" Rhino Hobby Extraction Kit
The Rhino Hobby Extraction Kit, like most German-made items, is built to stand the test of time. When you need large volumes of air removed, especially hot and stale air, then you want to consider a Systemair RVK fan.
Greenhouses and Grow rooms often can get suffocatingly stuffy and the air content unbearable for humans as well as the plants. The use of a fan can do wonders. And when it's the Systemair RVK fan, you can be assured of the most silent and reliable fan out there.


Benefits of the Systemair RVK
This fan mounts easily either horizontally or vertically and comes with a bracket, where any wall or ceiling will do

If you want extra control, fit the Systemair RVK fan to a Rhino fan speed controller and know that you can ensure your plants grow at the correct temperature

By utilizing active carbon along with the fan, you can absorb undesirable odours. In addition, make the use of an extraction fan which will restore fresh air to the greenhouse or grow room

So, you know you are getting a strong and reliable fan, the casing is made from fibreglass reinforced plastic

For safety and a good look, all the Systemair RVK fans are fitted with external rotor motors and backward curving blades







The Carbon Filter
The Rhino Hobby filters are mimicked on the Rhino Pro range, so you know you are getting a quality carbon air filter. The carbon is what attracts and absorbs the bad air and pollutants, so is a very important part of the filter system. The only difference between the Hobby filter and the Pro filter is that there is a lesser density of carbon in the Hobby, 30mm precisely. But this is easier for a novice grower to handle and manage.


The reversible neck, one of its kinds on the market, will help extend the life of the carbon and ensure it reaches its 12 month lifespan, if not longer.


Ducting and Clamps
All the Rhino Hobby Kits come with Rhino ducting and 2 Rhino clamps. All additions are genuine Rhino accessories.


Included in the Rhino Hobby Extraction Kit
5 inch Systemair RVK Sileo Fan

5 inch Rhino Hobby Carbon Filter

5 Metres of 5 inch Rhino Aluminium Ducting

2 5 inch Rhino Ducting Clips


600w Grow Lush Grow Light Kit
Gardeners and professional Growers are looking for reliable results from their HID lighting needs, look no further than grow lush 600w grow light kit a high quality and long lasting Magnetic Ballast!
Its straightforward heavy duty quality and highest insulation level of Class-H. Highlight its easy operation, with headache-eliminating plug and play with 220/240-volt supply. This HPS Ballast includes a 220-240 volt power cord.



Grow Lush 600w Light Kit Includes:



Grow Lush 600w Metal Case Ballast

Grow Lush 600w Dual Spectrum Lamp



Powerplant Heavy Duty Timer
The PowerPlant Heavy Duty Timer is different. It is designed to take high loads and has no problem dealing with the inductive loads produced by a 600w ballast. This means no separate contactor/relay is required and saves you money. It has a 96 switching operations within a 24 hour period (every 15 minues). This timer is suitable for timing one 600w HID ballast. It has a robust case design with socket and timer dust/moisture covers.
Normal household timers are not built to take the high inductive loads produced by HID ballasts. If used with an HID ballast - the contacts inside the timer that open and close the timed circuit will overheat and weld together - breaking the timer and leaving your grow lights permanently on.


The LUMii Rope Ratchet
The LUMii Rope Ratchets adjust the height of your reflector to get the most light to your plants as they grow. They pull tight, lock into place and they are really durable. They are tough and are heat and cold resistant.
Each LUMii Rope Ratchet has two quick release carabiner clips at each end for ease of use and 2.4 metres of tough braided polypropylene rope.


VitaLink Hydro Max Grow Soft water
VitaLink Hydro Max Grow is specially formulated for maximum growth during the early vegetative stages of the plant life cycle. This product contains all the essential basic nutrients needed for healthy development and growth with the addition of EDDHA for increased iron flow and also fulvic acid to enhance the nutrient uptake by plants. Iron is commonly found inmost natural soils, but cannot always be utilised by plants. The added EDDHA in VitaLink Hydro Max Growth helps to prevent iron deficiency and promote root hair growth for an overall stronger root system by optimizing iron absorption. VitaLink Hydro Max Grow is designed for use in a variety of hydroponic systems including stone-wool, clay pebble and perlite with the added flexibility of being compatible with soft and hard water areas.


Benefits:


Promotes growth and root strength

EDDHA for improved iron availability

Suitable for use in a variety of hydroponic systems

Designed for soft and hard water areas

Added fulvic acid for optimum nutrient absorption

Maximises growing potential in the early vegetative stages




VitaLink Hydro Max Grow can be used alongside VitaLink Hydro Max Bloom for a visibly larger and denser yield with more impressive flowers and fruits. Formulated for use in the first three weeks of vegetation, adding VitaLink Hydro Max Grow to your nutrient schedule will maximise your plants growth potential and provide the best environment for a high quality final crop.


VitaLink Hydro Max Bloom Soft Water
VitaLink Hydro Max Bloom contains all the essential nutrients needed for healthy plant life with the addition of EDDHA and fulvic acid for visible improvement in overall flowering and yield in hydroponic systems. EDDHA increases the flow of iron which encourages new root sand root hairs for a strong, healthy root system. The inclusion of fulvic acid in VitaLink Hydro Max Bloom is also beneficial to plant health by maximising the nutrient uptake for optimum flowering and a denser, healthier yield. Designed for use during the blooming stage to give plants an extra boost, VitaLink Hydro Max Bloom can be used in a variety of hydroponic systems including perlite and clay pebble and is also suitable for use with soft and hard water areas.



Benefits:



Contains EDDHA for increased iron uptake

Promotes growth and plant development

Designed for use during the bloom stage

Enhances flowering and root growth for an abundant yield

Suitable for a variety of hydroponic mediums

Includes fulvic acid for maximum nutrient absorption



VitaLink Hydro Max Bloom has been specially formulated for use from week 2 to week 8 of the bloom stage for stronger, healthier plants with more impressive flowers and fruits.Combined with VitaLink Hydro Max Grow during the early weeks of the vegetation stage,you can improve the efficiency and quality of your plants whilst optimising their flowering potential
WHAT'S INCLUDED


1 X NFT Gro-Tank 424 Complete Kit

1 x Mammoth Lite 1.2m x 1.2m x 2.0m
1 x 600w GrowLush Light Kit
1 x Powerplant heavy Duty Timer
1 x RVK125A1 Fan (5")
1 x Rhino Hobby 125mm x 300mm Filter (5")
5m 125mm Aluminium Ducting (5")
3 x 125mm Ducting Clamp (5")
1 x 13 amp Plug & 4m Cable
2 x Rope Rachet (Pair)
1 x Digital Thermo-Hygrometer
1 x 6" Clip on Fan
1 x Vitalink Max Grow 1 Litre (soft water)
1 x Vitalink Max Bloom 1 Litre (soft water)
1 x PH Test Kit
1 x PH Down 250ml
1 x 3ml pipette
2 x 10ml Syringe
1 x 100ml measuring cup
1 X NFT Gro-Tank 424 Complete Kit
NFT 120 Starter Grow Tent Kit