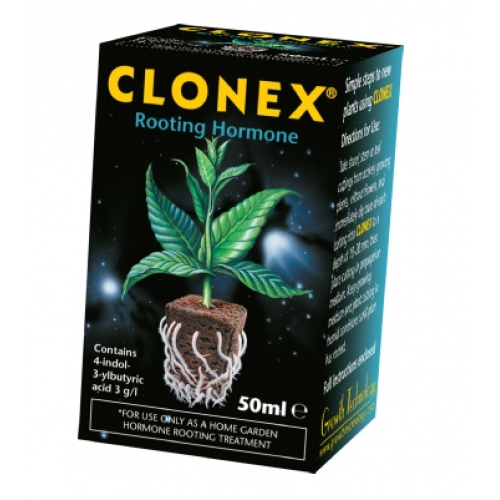 CLONEX ROOTING GEL


Clonex Rooting Gel has been one of the most renowned compounds used since 1989. This persistent gel will remain constantly around the plant stem to seal and supply the necessary hormones for maximum root development as well as the beneficial nutrients needed to protect new tissue growth.
As an excellent of vitamins, hormones and nutrients, Clonex Rooting Gel can be used with all growth environments. Clonex Rooting Gel prevents infection and disease with its highly effective seal. As it is a gel form, it will not wash off as would products that are powder or liquid-based. This amazing product contains the complete trace elements and nutrients that are essential for nursing both the roots and plants during the growth process.
Clonex Rooting Gel encompasses 3000 parts per million of the rooting hormone needed for optimal growth and development. With this full-strength rotting compound, your roots will experience an explosive and healthy rate of development.


Directions for use:
Clonex Rooting Gel is designed to be used on any variety of plant cuttings, including but not limited to: herbs, vegetables, fruit, and all woody and/or flowering plants.
Simply dip your cutting to the appropriate depth then insert into your rotting medium. Make sure to properly mist your cuttings before placing them in a clean and humid environment. You should see new growth in as little as one to two weeks. You should harden off your plants as the new roots appear. If covered with a humidity-covering or dome, you should move it slightly to allow in a minimal amount of air, increasing the opening every day until you are able to completely remove the covering.
Clonex Rooting Gel is the choice of both professional farmers and private garden enthusiasts alike. Once you see how well this product works, you won't be able to think of using anything else for your plants!
Clonex Rooting Gel 50ml