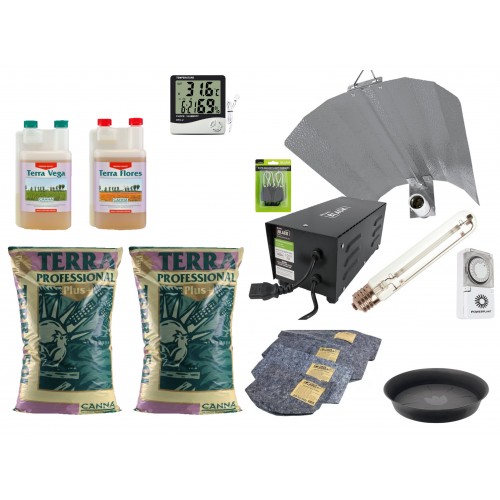 Canna Terra Starter Kit
Our Canna Terra Starter Kit is a super growing kit for an introduction into soil growing with everything needed for a successful harvest like a Lumii Black 600w grow light kit that delivering 90.000 lumens via a dual spectrum lamp and excellent growing medium and nutrients from the world renowned canna delivering superior results as well as light hangers, timers measuring jugs, thermometers and more.




WHAT

'S INCLUDED


1 x Lumii Black 600w Grow Light Kit
1 x Powerplant Heavy Duty Timer
1 x Rope Rachet Hangers (Pair
1 x Digital Thermo-Hygrometer
2 x Canna Terra Professional Plus 50 Litre
1 x Canna Terra Vega 1 Litre
1 x Canna Terra Flores 1 Litre
5 x 3.8 Litre Root Pouch Fabric Pot
5 x 16 Litre Root Pouch Fabric Pots
5 x 30cm Round Saucer
2 x 10ml Syringe
1 x 100ml Measuring cup


Lumii Black 600w Grow Light Kit


A Great value for money grow light kit with a 2 year warranty, one of the UK'S biggest value brands so rest assured quality and customer service will be on your side.Includes lamp, ballast and reflector, suitable for start to finish.



The Relector
The LUMii BLACK Reflector is a Dutch Barn-Style, Euro Reflector. Included with a lamp holder, V hooks for hanging and a 4m cord set. The LUMii BLACK Euro Reflector is quite simply a great budget reflector at a great price!
Dimensions:Height: 160mm | Width: 350mm | Length: 520mm




The Grow Lamp
The LUMii BLACK Lamp is a 600w Dual spectrum Lamp with an E40 fitting. Offering raised blues, this bulb is perfect for stimulating enhanced flowering.The LUMii BLACK Lamp offers 20,000 life hours and 88,000 Lumens.For best results.


The Ballast
The LUMii BLACK Metal Magnetic Ballast is supplied with a flying IEC lead which enables you to add any reflector fitted with a universal IEC socket. It's simple to start growing, just add a reflector and a lamp with the same wattage as the ballast. The well vented metal-case ensures the ballast runs cool and quiet and features wall-hanging brackets making them fully wall-mountable, thus making more space in your grow room. The LUMii BLACK Metal-Cased Magnetic ballast can be used with any 600w HID lamp – however we recommend using a LUMii BLACK 600w Dual spectrum lamp to get the best results



Powerplant Heavy Duty Timer


The PowerPlant Heavy Duty Timer is different. It is designed to take high loads and has no problem dealing with the inductive loads produced by a 600w ballast. This means no separate contactor/relay is required and saves you money. It has a 96 switching operations within a 24 hour period (every 15 minues). This timer is suitable for timing one 600w HID ballast. It has a robust case design with socket and timer dust/moisture covers. Normal household timers are not built to take the high inductive loads produced by HID ballasts. If used with an HID ballast - the contacts inside the timer that open and close the timed circuit will overheat and weld together - breaking the timer and leaving your grow lights permanently on.


The LUMii Rope Ratchet


The LUMii Rope Ratchets adjust the height of your reflector to get the most light to your plants as they grow. They pull tight, lock into place and they are really aswel as extra tough and are heat and cold resistant.


Each LUMii Rope Ratchet has two quick release carabiner clips at each end for ease of use and 2.4 metres of tough braided polypropylene rope.



Canna Terra Professional Plus



Canna Terra Professional Plus formula was scientifically studied and created using only

Canna Terra nutrients

to form the purest soil mixture to increase root structures and outstanding root development. With the enhanced properties of the root nutrient uptake out preforms other soil mixtures hands down. With the use of peat moss and natural tree bark in this soil mixture, instead of the use of

perlite

, with their antimicrobial and antiseptic qualities increase aeration thus promoting substantial root and plant growth. The soil mixture contains super potent feeding components to enhance the first week of plant growth. The PH level is powerful and adjusted for long term control by the use of lime charge that will last an entire cycle. The balance ratio of nutrients and minerals gives a power charge for initial first growth and continues to self-adjust and continue to provide a constant powerful balance for proper nutrient uptakes throughout the entire cycle.




Benefits:




Super aeration with powerful anti-microbial and antiseptic properties for super charged root growth for increased uptake of nutrients

Powerful feeding mixtures for increased growth during first week

Lime power to increase and balance PH levels naturally

Self-adjusting nutrient to mineral balance for proper feeding over time

Works best during the flowering stages with

Canna Boost Accelerator

for super growth of crops along with enhanced taste, size, weight and potency.

Works great with

Canna PK 13/14

for super charged potency, increased essential oils and super-sized crops so use during growth and reproductive stages of soil gardening.




Canna Terra Professional Plus is straight out of the bag right into container or garden ready for use. Place your plant in the super charged mixture and pack tightly and water until saturated. Water only after the soil looks particularly dry. There is no need to add extra nutrients for the first few weeks and only after week 4 will you need to add supplemental nutrients like

Canna Rhizotonic

and

Canna Cannazym.




Canna Terra Vega



Specifically designed to bolster strong, lush shoot and root growth and development, Canna Terra Vega is a solo nutrient that contains all of the essential nutrients your plants require for optimal growth. Canna Terra Vega can be used indoors and outdoors as well as in both plant beds and containers. It is easy to use and dissolves easily in run-to-waste systems.



Canna Terra Vega contains high levels of nitrogen which allows for maximum absorption of both water and nutrients for optimal shoot and root development. The nutrients in Canna Terra will react in coordination with the medium to provide for excellent growth and development for a bountiful and lush harvest.



Terra products are not recommended for use with North American peat products, especially those of bulk grade, as they require long term pH control and lack a nutrient starter charge.




Directions for use:




Dosage: 50 ml solution per 10 Litre water max

Use 1-3 times per week for fertile soil or daily for less fertile soil

Not for use in hedges, reed beds, swamps or woods, surface waters, groundwater collecting areas or in protected nature reserves

Store in a dark place away from extreme heat or cold

Keep away from pets and children

Wash hands after use and wear protective gear such as gloves and goggles.




Canna Terra Flores




As a complete soil nutrient for plant growth during the flowering stage, Canna Terra Flores contains just the right amount of essential nutrients such as phosphorus and potassium needed to sustain the plants during the flowering cycle. Terra Flores helps stimulate both fruit formation and flavor. This extraordinary product can be used in both open soil and potting as well as in both indoor and outdoor environments. Both professional and private gardeners alike have raved about the benefits of this amazing feeding system.
Canna Terra Flores is so easy that even a beginner can use it with no problems. It dissolves quickly and easily and is designed for use with "run-to-waste" system. It helps prevent the soil from binding nutritional ions and is beneficial in fruit formation as it contains all of the necessary nutrients that your plants need during the flowering phase of development. With the perfect amounts of both phosphorus and potassium, your crop will have all the nutrients needed for a healthy growth and development during the flowering cycle.


Directions for use:



Recommended dosage 50 ml Canna Terra Flores per 10 l water

Recommended usage at least 3x a week with use of a fertile soil, however it may be used daily if your soil is less fertile

Canna Terra Flores works exceptionally well on organic based soil-less mixes such as bark, peat, etc or with aerated calcareous soils

Do not over saturate or over fertilize your substrate

Do not use in reed beds, swampy or wooded areas, and surface water, in or near groundwater collecting areas, hedges or protected nature reserves.

Keep away from extreme cold and heat

Always wear protective gear (gloves, goggles, etc) when using Canna Terra Flores

Keep away from pets and children

Wash hands thoroughly after use



Root Pouch Fabric Plant Pots



Root Pouch Fabric Plant Pots can be used for any type of size of plant. The larger fabric plant pots are designed with handles,which makes them ideal for transporting plants. They are also extremely durable and lightweight. Whether you are growing trees or potted plants, they will produce healthy growth either above or underground. A Root Pouch Fabric Plant Pot self-degrades to allow the plants roots to grow comfortably in the natural environment. Root Pouch pots may be used in a variety of different soil and climate conditions including clay and desert sand.
Root Pouch Fabric Pots are designed from reclaimed plastic bottles. Not only does this make for a good environment for plants, but it saves the bottles from being sent to landfills and prevents the production of new plastic materials, which then cuts back on the use of fossil fuels and petroleum. So not only are they are beneficial for plant growth, but they are good for the environment as well.
As they are designed from polyethylene (PETE, or the plastic from the bottles),they will disintegrate slowly over time. This plastic is spun into fibers from recycled cotton fibers as well. There are four versions and the disintegration process varies from six months to six years. Root Pouch Fabric Pots allow for a denser root structure as they are allow for more airflow and are water efficient. This provides superior protection and insulation for your plants against both the hot heat of the summer and the bitter cold of the winter.




Benefits of Root Pouch Fabric Pots



Cuts vegetative growth cycle by at least a week

The roots are able to breathe due to the fabric structure

Plants are protected year round from the elements

Roots are prevented from circling

5 Gallons and up pots are equipped with handles for easy transport

Able to be used with overheads, hydroponic food trays and drip systems

Allow plants to be placed outside earlier than usual
Canna Terra Starter Kit