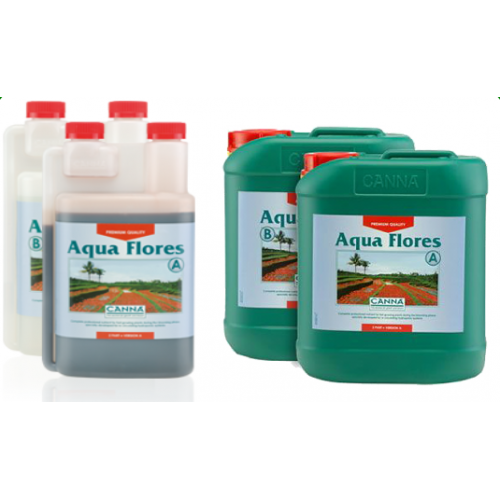 Canna Aqua Flores A&B


Canna Aqua Flores can help yield a bountiful harvest. It also is designed with pH-stabilizer which can help both professional and private gardens maintain proper pH levels during all stages of plant growth and development.
As plants mature and enter the blooming process, there is an increased need for both Phosphorus and Potassium. Canna Aqua Flores can provide your crop with these and other essential nutrients throughout the blooming process. Aqua Flores also contains many essential vitamins and nutrients necessary for growth and development during the blooming cycle so it is a great stimulant for both the flavor and formation of your fruit crop.
Canna Aqua Flores is so easy to use that even those with little gardening experience can easily use this revolutionary product. It dissolves quickly and is able to be used in recirculating hydroponic systems. With its superior ability to stabilize the pH levels, it will be a cinch to maintain the optimum pH range in the growth environment during the blooming process.



Directions for use:



For a "ready-to-use" solution for fertilization simply dilute equal parts A and B concentrates in tap water. However never mix the two directly, this will result in an unstable solution. Wait a few minutes after adding part A, before adding part B.

Maximum dosage is 30 ml per 10 liter of water

Stir well and allow to solution sit for a few hours prior to use



Canna Aqua Flores A&B