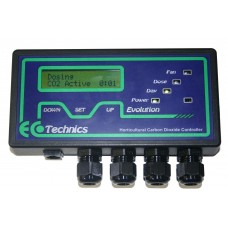 This Controller is the most advanced of its kind and has more features and functionality than any other product on the market. It can be used either with or with out the Evolution Carbon Dioxide Sensor and can be interfaced to an external thermostat / hygro stat providing a cheap entry level system with an easy & affordable upgrade path in the future.


Evolution Carbon Dioxide Controller Overview:

The Evolution CO2 Controller monitors CO2 Levels within the grow room and constantly adjusts the amount of C02 to maintain ideal conditions for optimal plant growth. This unit is also compatible with the Evolution Digital Fan Speed Controller.


The Evolution controller utilizes the latest microprocessor and infra-red technology to monitor & control the levels of carbon dioxide in your growing area.



The controller can operate with or with the optional Evolution Solid State NDIR CO2 sensor, this controller can also be used with either bottled CO2 gas or with a propane or natural gas burning CO2 generator, in addition to this the Evolution controller can be interfaced to most external thermo / hygrostats for Improved environmental control.


FEATURES



- Can be used with or without Evolution CO2 Analyser- Intelligent Multi Stage CO2 dosing- Fan Contro

l
- Bottled CO2 or Propane CO2 Generator
- Expandable system
- Day Light/Night sensor
- Fully Programmable
- Multi-Language support (English, French, German, Italian and Spanish language options)
- Microprocessor controlled
- Latest Solid State NDIR sensor option


- Full 1 year warranty
Ecotechnics EVO C02 Controller