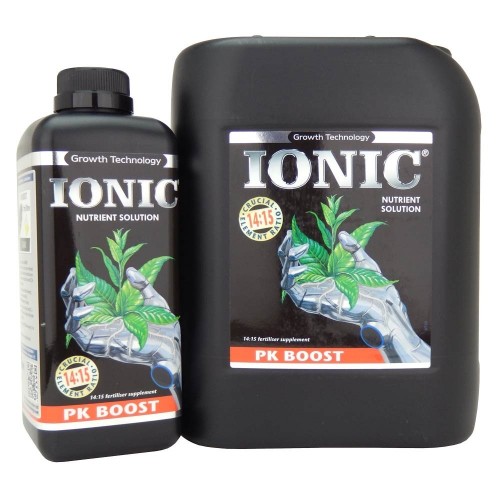 Ionic PK Boost





Ionic PK Boost (14/15) is used throughout the blooming and fruiting phase for larger more robust crops. The much needed Phosphorous
and Potassium along with added iron in Ionic PK Boost propels optimal fruiting and flowering of ultimate quality and quantity with higher potency during the flowering stage when these extra nutrients are needed the most.
Ionic PK Boost is a heavy flowering and fruiting booster that can be used in any grow medium and substrate except for organics. You can use any one of the Ionic nutrients such as Ionic Hydro Bloom, Ionic Soil Bloom or Ionic Coco Bloom for the best crop yields and quality that will amaze even the most professional of growers.


Benefits of using Ionic PK Boost



Made with 100% natural mineral salts with no chemicals or harmful by-products

Use with any Ionic Bloom nutrients for best results

Scientifically formulated and manufactured for use during the flowering and fruiting phase

Great for beginners with all in one, easy to use, boost to plant flowering and fruiting

Developed and manufactured for complete balance and purity for best results

Contains pure mineral elements for heavy fruiting and flowering




Give your plants power during their fruiting and flowering stages with Ionic PK Boost with all pure, natural mineral compounds for higher quality, quantity and most potent crops.



Dosage: 1ml per 1 Litre of Water
Ionic PK Boost