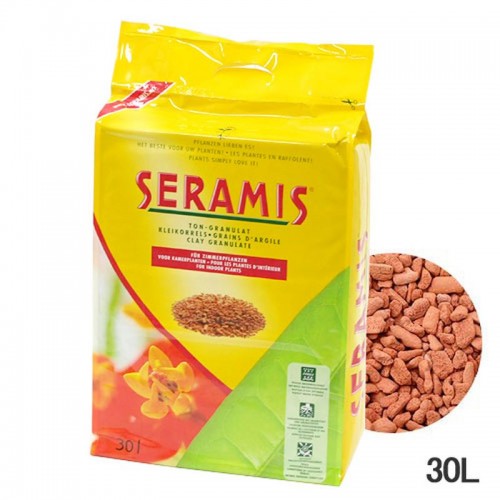 Seramis Clay Granulate 30 Litre


Seramis are clay granulates that is ever expanding. The nature of the clay is porous and retains water, which assists with keeping the plants properly hydrated.
Seramis is a great alternative that can replace a number of ingredients in plant growing.
For hand watering, use the Seramis instead of soil or coco. With a hydroponic system, you can replace your normal coco or clay pebbles with the Seramis mix.



The Process of Getting the Clay to its Seramis Form
The clay, which originates from the Westerwald region in Germany is diluted with water

Then it undergoes a porisation process which allows it to give off a pore volume of 80% - this means it is extremely porous

Further, they dry the clay, then broken down

They sieve the clay and fire it at a low temperature which helps in adding to its water-holding properties

Finally they wash the clay to remove all dust, before packaging begins




Seramis is a super way to ensure your plants are not bogged down with stodgy soil and the water can drain through freely. In addition, they allow good oxygenation for the plant roots, which is important for healthy growth.
The PH level of the Seramis is around 5.2 to 6.0 which is a perfect level for growing plants and established plants. The fact that there is a low salt level means your plants are getting all the good nutrients and not overpowered by heavy sodium counts.



Dosing Instructions
When you pack the Seramis into the pot, ensure your root-ball is full covered and isn't peaking over the top of the clay packing

Run water through your system or plant in order to prime the Seramis mix

In addition, add some feed or water nutrient solution to the water

While the Seramis has a naturally good PH balance, you need to check the soil clay granulates daily to ensure there isn't an adjustment

Should there be, soak through a pH-adjusted water solution
Seramis Clay Granulate