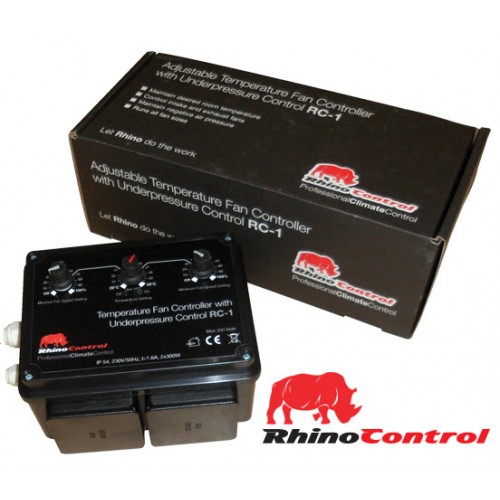 Rhino Fan Speed Controller RC-1


It has been said "Let Rhino do the work" and the Rhino Fan Speed Controller RC-1 has proven time and time again to hold true to that statement. The Rhino RC-1 has a thermostat to take all the exhausting work of trying to control the intake and exhaust extraction within your grow room. This powerful two fan air exchange unit provides the ultimate temperature by running at full speeds in a grow room until it reaches the temperature threshold. It will alternately trigger the fan per the temperature and moisture in the grow room to either turn on or off accordingly. The proper balance of ventilation is provided to the grow room with no air leaks.



Benefits:



Easy controls to set desired temperatures and will turn on and off automatically if desired temperature is exceeded

Easy to set fan speeds for both air intake and air extraction

Controls negative air pressure in grow rooms by balancing between fan idles and fan running

Manufactured by the leading manufacturer of carbon filtration systems

Comes with a hard wired temperature probe which helps regulate and trigger fan speeds and grow room temps




If

you want to take all the exhausting work out of regulating your grow rooms temperature and air intake and extraction methods, using Rhino Fan Speed Controller will take care of all the work for you. Simple to follow directions and easy to use dials helps you set desired temperatures and fans speeds to give you the best growing room environment with no air leaks.
The Rhino Fan Speed Controller alternately turns on and off and from run to idle motor speeds when the temperature either exceeds the desired temp or falls below. Easy to setup and comes with an air temperature hard wired probe for constant monitoring of grow room temperatures.
Rhino Fan Speed Controller RC-1