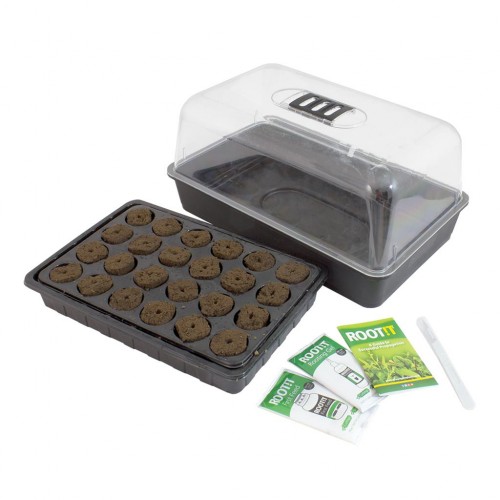 ROOTIT Budget Propagation Kit


This ROOTIT Budget Propagation Kit comes with everything you need to get you started. Complete with a medium size propagator, a 24 cell insert and tray, filled with ROOTIT Natural Rooting Sponges that offer the latest and fastest rooting available today, a sterile scalpel, ROOTIT Gel4Plugs Rooting Gel sachet & ROOTIT First Feed sachet and a book on how to grow from cuttings or seeds. The ideal introduction kit to propagation!

Dimensions: L:36cm x W:23.5cm x H:17.5cm

Benefits
Maximise your success rate

Faster more vigorous rooting

Organic and fully biodegradable

Simple to use and easy to pot on

No mess, no fuss, just excellent results


What is inside?
24 cell insert with ROOT!T Natural Rooting Sponges

ROOTIT Gel4Plugs Rooting Gel sachet

'How to' guide on achieving great results from your cuttings & seeds
ROOTIT Budget Propagation Kit