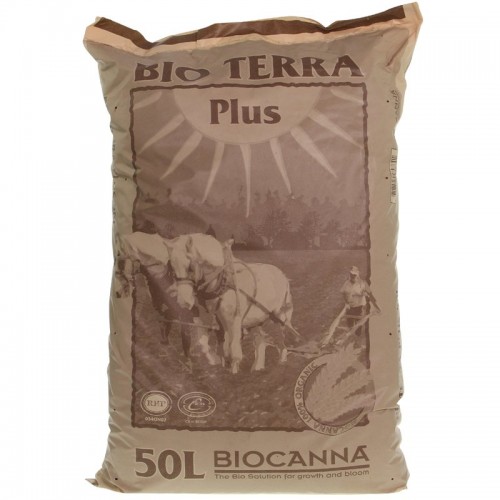 Canna Bio Terra Plus Soil Mix 50 litre
Canna Bio Terra Plus's blend of substrates has been fully certified to ensure that it meets international organic standards. It's the perfect soil mix for users who want to grow as naturally as possible, producing fruits with a truly succulent flavour. It also creates superb drainage, helping to oxygenate the root-zone, pushing yields as far as possible.
Virtually all soil products encourage beneficial microbial activity in the root-zone. This increases yield and root-health. For a really flourishing microherd we highly recommend using Ecothrive Neutralise to avoid the chlorine/chloramine in tap water from inhibiting, or even killing, the friendly microbes, plus a quality beneficial inoculant such as Ecothrive Biosys when growing in soil. For an extra kick, try Ecothrive Charge too!
Certified organic – meets international standards
Excellent drainage and oxygenation – roots love it!
Contains premium-grade, certified ingredients
Supplied pre-fertilised – no need to add nutrient initially
Optimized for use with the Bio Canna range
Facilitates accelerated plant growth
Canna Bio Terra Plus Soil Mix 50 litre