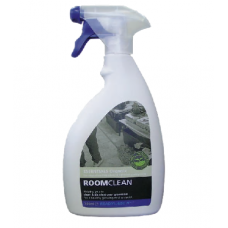 Naturally Clean & Disinfect Your Grow Room For A Healthy Growing Environment
Essentials Room Clean is a powerful 100% natural cleaner and disinfectant for grow rooms and greenhouses. When used regularly, Room Clean will keep your grow room and growing equipment clean and free from fungi and bacteria. Room Clean can be used on all hard surfaces, such as metal, plastic glass, wood, vinyl and painted surfaces.

Room Clean is supplied in a 1ltr concentrate at a 25:1 concentration (it goes further than its competitors and is natural) ideal for mixing in a bucket for disinfecting grow room at the end of a crop.

Room Clean is also supplied in a ready to use spray bottle (RTU) form. Ideal to have at hand anytime to mop up spillages or kill unwanted biomass growth on grow room surfaces

There Is No Need To Remove Plants From The Grow Room Before Using This Product

Essentials Room Clean