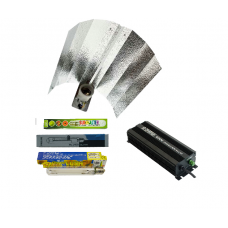 STANDARD REFLECTOR

The Euro Reflector is a value-for-money reflector for first-time growers or more experienced gardeners on a budget. It has a V-ridge along the top and silver dimpled wings for excellent reflectivity, light dispersion and reduction of hot-spots. The Euro HPS grow light reflector has a ceramic lamp-holder for reliability and heat-resistance and has 2 convenient tabs on the top for easy hanging. It is an excellent no-frills product where cost is a major concern.

600w Omega Digital Dimmable Ballast

HID lighting is the professionals' choice for maximising crop growth. Omega Lighting's state of the art Ballasts are ideal for powering HID lamps. They offer the user the ability to control power output to the bulb which not only protects the lifetime of the bulb, it also helps to reduce growing costs.

his top of the range dimmable Ballast features a unique 4-setting control which offers dimming options of 250W, 400W, 600W and a super-lumen setting of 660W. All Ballasts feature a 1 metre mains lead with flying IEC lead for safety and are wall mountable. CE certified and guaranteed. Also comes with a 5 year guarantee

SUPERB LAMP CHOICE:
GROW LUSH DUAL SPECTRUM LAMP
This latest 600W High Pressure Sodium(HPS) Grow Light benefits: accelerate development and hearty flowering!
Power: 600 watts (High efficiency)

Expected Life Span: 29,000 hours

Lumen: 91,000 lumens

Contains more red spectrum, which is best for flowering.

Strong power to penetrate fog

High output, high luminescence efficiency.

Fit for all standard 600 watts HPS grow light systems. Great for hydroponic grow use
SUNMASTER DUAL SPECTRUM LAMP
The vast majority of a Dual Spectrum Grow Lamps output is in red light. However the beauty of a Dual Spec is that it also delivers enough blue light to enable you to use it continually though both the Vegative and Flowering stages and saving on the need for 2 separate bulbs.

The Sunmaster Dual Spectrum Lamp is the dual spectrum grow lamp from the ever increasing Sunmaster/Venture Lighting range of of grow lamps. It uses the same technology as the Sunmaster 600W Son-T-Plus 95,000 lumen lamps, but instead of producing the extra 5000 lumens of red light (the Grolux produces 90,000 lumens) they have tweaked the extra output to provide more blue spectrum.
PHILIPS SON-T PLUS HPS LAMP

The Philips 600W Son-T Plus Dual Spectrum HPS-AGRO lamp is a dual-spectrum lamp with a high 90,000 lumens output. The lamp produces light in the orange/red part of the spectrum for an excellent flowering process.
600w Omega Digital Euro Grow Light Kit