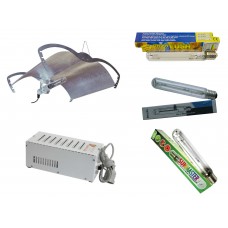 600w Adjustable Mantis Grow Light Kit


Our 600 watt Powerplant Mantis grow light kit comes complete with ballast, reflector and a choice of 3 lamps to suit the growers needs. The powerplant mantis reflector is a premium upgrade from the euro style reflector giving the grower more choice of how they deliver the light to there plant having 5 adjustable positions making it easier to narrow the light spread for a more intense footprint or at its widest position being able to spread the light of a larger area. the reflector has been paired with the ever popular heavy duty 600w grow lush ballast for optimal lumens output and reliability. 1 YEAR FULL WARRANTY.


Grow Lush Magnetic Ballast


The Grow Lush heavy duty magnetic ballast is a long lasting vented metal cased ballast suitable for both MH and HPS lamps. With its straight forward easy plug and play 220/240 volt supply has the highest level of insulation of Class-H and a safety protection feature for peace of mind used by professional gardeners and hobbyist for its superior lumens output and durability.
Some of the features of this amazing product include:
220-240 VAC input voltage
600 watts output
2.80 Amp Run Current
Thermal protection

External fuse protection

CE certified

Long Distance Ignition
1 year full warranty
Powerplant Mantis Reflector


The Powerplant Mantis Reflector is an upgrade from standard euro reflectors and features adjustable wings to match the footprint of the reflected light from your lamp to your grow-space and grow-style in your garden. The wings each have 5 possible positions and are adjustable separately. The wings are locked into position by clipping the wing end-stops into notches in the reflector's frame. In the narrow position, the lighting footprint is narrowed but more intense. In the widest position, the lighting footprint is spread over a larger area.
Fully adjustable pitch parabolic design for maximum light transfer

Virtually indestructible yet flexible construction

Quick and simple adjustment

Flexible - Adjustable reflector pitch for irregular shaped grow area

Hanging hooks
Grow Lush 600w Light Kit Includes:
600w Grow Lush Metal Case Ballast




Powerplant Mantis Adjustable Reflector
Choose Of Lamp:
600w Adjustable Mantis Grow Light Kit