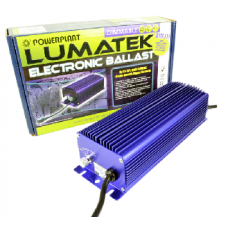 Lumatek 600w Dimmable Digital Ballast
The all new dimmable 600w digital ballast from Lumatek represents another leap forward in grow room lighting systems. These fantastic new ballasts feature a dimmable dial that allows you to run a 600w bulb at 360w, 400w, 600w and even 660w. This means that by using the Lumatek dimmable digital ballast you can vary your light intensity throughout your grow cycle saving you money on electricity and producing higher yields. You can even set the dimmable ballast to 400w and use a 400w metal halide bulb for better vegetative growth.

The Lumatek 600w dimmable ballast comes with a hefty price tag but also huge benefits. Wheras other traditional ballast and light systems haven\'t really changed in over 20 years Lumatek are beginning to utilize new technologies to vastly improve grow room lighting performance. I mean think what it would be ilke using a 20 year out of date television or mobile phone the difference these digital lighting systems could make to your indoor growing is that profound.
Key Specifications/Special Features:
Electronic ballast for 600W HPS or MH lamp

Voltage: 240V 50/60Hz

Current: 2.70A

Input power: 630W

Output power: 600W

Power factor: >0.99

Voltage range: 175 to 275V

THD: <8%

Lamp CCF: <1.7

Operating frequency: high frequency

No audible noise, no flicker

Envirement temperature for full load operation: -25 to 40°C (-13 to 104°F)

Enclosure temperature rise (Δt): 35°C (95°F)

Environment IP require: >IP23

Humidity: capable of operating in relative humidity of 0% to 90%, non-condensing.
To light a 250W lamp; set control to 250W.

To light a 400W lamp; set control to 400W and dim down to 250W.

To Light a 600w Lamp; set control to 600w or Boost, plus you can dim a 600w to 40
Lumatek 600w Dimmable Digital Ballast