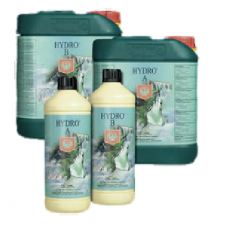 House and Garden Hydro A&B
Run to waste specific nutrient
House and Garden Hydro A&B is an absolute necessity for those gardeners who are serious about proper nutrients to stimulate healthy growth for a bountiful harvest. With its natural ingredients, Hydro Bloom will ensure that your vegetation is fed only the purest nutrients to yield a substantial crop.
Even though it is a relatively new product, Hydro Bloom has received rave reviews from both professional and home gardeners. With its high concentration and low dilution, this innovative product will provide maximum nourishment for your plants during the entire growth process. Your finished result will far exceed your standards in texture, taste, scent and taste.
House and Garden Hydro Bloom contains just the right amount of both Phosphorus and Iron (Eddha-Fe) to allow your plants to absorb the proper nutrients at the base of the root. If you want the best feeding system for your plants, you can't go wrong with Hydro Bloom.
How to use: Fill your container up to ⅔ with water. First add Hydro Bloom Part A, making sure it is thoroughly mixed. Wait about 15 minutes and then add an equal amount of Hydro Bloom Part B. Never add Parts A&B together, either in their concentrated form or to your product, as this can create an unearthly chemical reaction for your vegetation.
House and Garden Hydro A&B