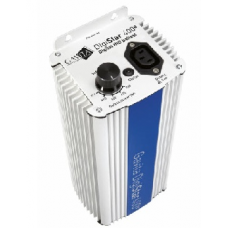 Gavita Digistar E-Series Digital Ballasts
The Gavita Digistar E-Series dimmable digital ballasts guarantee maximum light output, they operate completely cool, silent and safe and are more efficient than magnetic ballasts. Digistar ballasts have an adjustable output power, this feature allows you to dim and boost the lamp or use different lamp powers with the same ballast, for example a 400w lamp for vegetative growth and a 600w lamp for flowering.

Like all lighting equipment in the E-series the Digistar is compatable with the brilliant Gavita Master Controller.
The Gavita Digistar E-Series consists of two digital ballasts:
Gavita Digistar 400E

High frequency digital ballast

Suitable for high frequency HPS/MH 250/400w lamos only

Compatable with Gavita Master Controller

Control range 50%-110%

Lamp settings 250w/275w/400w/440w

Recommended lamp: Gavita 400w Enhanced HPS

Gavita Digistar 600E

High frequency digital ballast

suitable for high frequency HPS/MH 400/600w lamos only

Compatable with Gavita Master Controller

Control range 50%-110%

Lamp settings 400w/440w/600w/660w

Recommended lamp: Gavita 600w Enhanced HPS

Gavita Digistar E-Series Ballast